John Stamos Was Arrested For DUI, Thanks Cops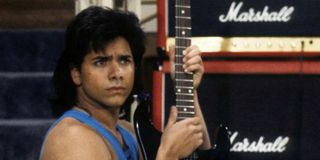 John Stamos resorted back to his young Uncle Jesse-bad boy days last night and decided to drive under the influence. The actor wasn't so sly either, as he was quickly caught by the cops following numerous calls to the Beverly Hills Police Dept. complaining of an erratic driver in the area.
The calls were made around 7:45 pm according to Variety (a little early to be driving drunk?) and the Full House star was pulled over alone in his vehicle. Apparently, according to a medical condition, Stamos was then quickly transported to a nearby hospital, where he was then confirmed to be under the influence. It was then that the actor was placed under arrest, issued a citation and released to the care of the hospital. Stamos of course kept his cool, though, and even went so far to send out his thanks to the Beverly Hills Police Dept. I'm sure it's not every day that they get a thank you after a DUI arrest.
The 51-year-old actor is now scheduled to appear in court on September 11, just weeks before the premiere of his Fox family sitcom Grandfathered. The incident also comes in the midst of recent news on the Full House spinoff, Fuller House which surely sets the spotlight back on Stamos again. Not to mention, the actor is set to present at the 2015 Emmy nominations on July 16. Who knows, maybe he was just feeling a bit overwhelmed? Regardless, in case you were wondering what a drunk Uncle Jesse sounds like, play a Full House scene in slow motion, and it basically sounds like the entire cast is stupid drunk. Here's a prime example.
All jokes aside, we're happy to know that John Stamos is safe and healthy. Now he can hopefully move on from this unfortunate happening to his exciting future prospects.
Your Daily Blend of Entertainment News
Your Daily Blend of Entertainment News
Thank you for signing up to CinemaBlend. You will receive a verification email shortly.
There was a problem. Please refresh the page and try again.