Lord Of The Rings Superfans Want To Crowdfund A Billion Dollar City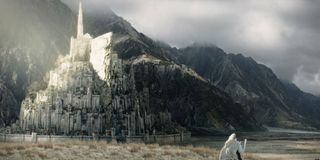 An incredibly ambitious group of Lord of the Rings fans have launched a crowdfunding campaign to help build a lifesize replica of the stunning Minas Tirith. The superfans, who also happen to be a group of architects capable of building the massive city replica are attempting to raise £1.85 billion for the project which will be divided for land, labour and materials.
The team of architects and structural engineers, which includes Jonathan Wilson and colleagues are passionate about bringing the replica of Peter Jackson's depiction of the City of Kings in the Lord of the Rings films to life. The goal is to create this majestic place not only to attract tourism, but also according to the Indiegogo to create a "wonderfully unique place to live and work". The team wants to include both residential and commercial properties. The residential properties are to be categorized by tiers based upon quality and size. While the action to create such space is sincere, and based in a mutual love for Tolkien's work, the creators also know that this venture does not have much chance of succeeding.
The team has two options for location of the stunning city, both in Southern England, and if in the very small chance the project does succeed in raising funds, they aim to start working on Minas Tirith by the end of 2016 and complete the project in 2023. There are a number of perks available in the donations category. The high donation of £100,000 will grant the donator Lordship/Ladyship of the city, and boy does it have major perks. The description reads:
So far, in 13 days the project has raised £24,274 from 697 people. That doesn't even translate to 1% of said goal, but it does prove that fans are interested. Unless some big celebrities and/or Lord of the Rings businessmen/women fans start dropping big, big bucks, there's little chance this "Realise Minas Tirith" will ever be completed, but it's big ideas like this one that make a community of fans excited for the prospect. You can head to the "Realise Minas Tirith" Indiegogo page here to give a donation, or follow @realiseminas on Twitter for regular updates.
Your Daily Blend of Entertainment News
Your Daily Blend of Entertainment News
Thank you for signing up to CinemaBlend. You will receive a verification email shortly.
There was a problem. Please refresh the page and try again.