Paula Deen Makes First Public Appearance Since Racial Slur Controversy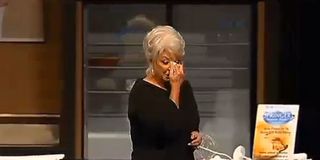 Paula Deen has been sticking to the shadows for several months following a lawsuit and a subsequent controversy over her admitted use of the "n" word in years past. The southern celebrity, known for her deep fried comfort food, didn't really manage to dodge any bullets during the controversy, getting dropped by numerous outlets that used to push her wares. After apologizing publicly, Deen shuttered herself in for nearly three months, but over the weekend the celebrity made her first public appearance in Houston, where she pulled out some tissues while fans cheered.
When Deen stepped out on the stage in Huston, her fans were happy to see her. According to local Fox News station, Deen purposefully chose Texas as the place to make her comeback.
More than 1,500 fans showed up to see Deen at the venue in Reliant Park in Houston, where she had a cooking demonstration planned. Media were present for the first few minutes of the event, but then were ushered out to give the celebrity chef some privacy as she shared how to make chicken pot pie with those who had shelled out as much as $400 to catch the woman in action at the big event. However, her 1,500 homegrown supporters are a far cry from the many companies that have condemned her career over the last several months.
Deen still has a deal with a cruise line and should still be able to sign up for gigs similar to the one she performed in Houston over the weekend. However, most of her large, corporate contracts have gone down the drain, including a book deal with Ballantine Books that had a Deen book available for pre-order prior to the controversy. The book was set to be a bestseller, but now it will never hit shelves. Other companies that dropped Deen include Caesar's Entertainment Group, Walmart, CVS, and even the Food Network. Other companies have distanced themselves from her brand, though they haven't outright condemned the woman.
Deen's spoken out several times since the court deposition incident to apologize for her actions, but she hasn't done a particularly good job of marketing herself in the time since the deposition became public knowledge. This one public appearance in Houston seems to have gone over well, but it will still be a long, hard battle to make Paula Deen a household name, again. She's got her work cut out for her, and we'll see if she puts the time and effort in.
Amazing Race & Top Chef superfan with a pinch of Disney fairy dust thrown in. If you've created a rom-com I've probably watched it.
Your Daily Blend of Entertainment News
Thank you for signing up to CinemaBlend. You will receive a verification email shortly.
There was a problem. Please refresh the page and try again.