Redford's Car Prank On Race Fan Newman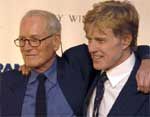 Robert Redford once grew so fed up of pal Paul Newman's obsession with car racing, he had a smashed up vehicle delivered to the late star's home as a practical joke.
The actor admits he would often be "bored to tears" with his Butch Cassidy and the Sundance Kid co-star Newman's motor madness - so Redford dreamed up a way to show his friend how he felt about the sport.
He recalls, "Paul drove me crazy talking about racing all of the time... It just bored me to tears... So I went to a junkyard and said, 'Do you have a destroyed sports car and can you wrap it up, put a ribbon around it and leave it at Newman's house?'"
The delivery went as planned, but Newman found a novel way to turn the pile of junk into a masterpiece - and had the smashed up car turned into a garden sculpture, much to Redford's distaste. He adds, "It was really awful." (MT/WNWC/IG)
Copyright 2009 WENN
Your Daily Blend of Entertainment News