How Jackie Chan Went From Child Actor To Worldwide Mega-Star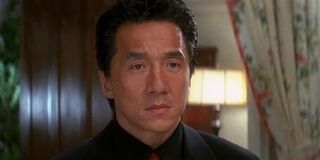 Who doesn't love Jackie Chan? The martial arts actor, stunt choreographer, producer, director, singer and man of all trades has been kicking ass and taking names for decades, and his success didn't happen overnight. It took a lot of hard work and persistence for Jackie Chan to become so famous.
So, how did Jackie become Jackie Chan? As it turns out, the actor/director has been in the entertainment business for almost his whole life. It was a combination of skill, talent, luck and unfathomable dedication to his craft that resulted in Jackie Chan becoming such a major martial arts phenomena.
Over the course of 65 years, Jackie Chan went from a child actor to one of the most famous men in Hong Kong's history. Let's take a look at Jackie Chan's legacy, and we'll discover the ways in which the veteran martial arts artist extraordinaire became the beloved, revered personality he is today.
Early Life And Child Actor Status
On April 7th, 1954 in Hong Kong, Jackie Chan was born Chan Kong-sang. He was the son of two Chinese Civil War refugees. Even from a young age, young Chan had a wealth of energy. Nicknamed Pao-pao, which translates to "Cannonball," he was always on the move and always rolling around. It appears that some things in life simply don't change. During his formative years, Chan lived near the French ambassador in Hong Kong, for whom his parents worked, in the Victoria Peak district. It was at the young age of five that Chan found himself in his first film, 1962's Big and Little Wong Tin Bar.
Throughout the following years, Jackie Chan appeared in small parts in films like The Love Eterne and Come Drink With Me. He also appeared in the film A Touch Of Zen, where the young actor signed Chu Mu's Great Earth Film Company. But during his film experience, Jackie Chan also worked hard as a student. Jackie Chan's first formative years of martial arts training came when the child was sent to the China Drama Academy, which is a Peking Opera School where Chan trained vigorously for the next decade. In addition to excelling in martial arts, the athlete was also a well-trained acrobatic.
It did not take long before Jackie Chan became part of the Seven Little Fortunes, which is a performance group made from talented students inside the school. It was during this period in his life that Chan Kong-sang earned his first stage name, Yuen Lo, in homage to his master. He would go on to study other forms of martial arts, including Karate, Judo, Taekwondo and Jeet Kune Do. He also continued to push himself as an on-screen performer.
Stunt Work and Early Lead Roles
At the age of 17, Chan Kong-sang worked as a stuntman for a pair of Bruce Lee pictures, Fist Of Fury and Enter The Dragon. There is a good chance you've heard of that latter one before. During his work on these celebrated films, Jackie Chan worked under the alias Chan Yuen Lung. It was later that year that Jackie Chan earned his first starring role in Little Tiger of Canton. The film only had a limited release in 1973. It was a bit of a rough patch for Jackie Chan shortly after that.
Having trouble finding stunt work, and due to the commercial failure of his earlier films, Jackie Chan starred in the adult comedy, All in the Family, in 1975. It was the only film that featured Jackie Chan not performing a single fight or stunt scene. It was also the first time Jackie Chan did a nude scene. In 1976, Jackie Chan briefly attended college at Dickson College, but that tenure didn't last long. Chan soon became a construction worker, where he earned the nickname of "Little Jack." Over time, it became "Jackie." While he didn't stay in the construction business, the nickname obviously stuck.
Things were starting to turn around for Jackie Chan. Later that year, Jackie Chan received a telegram from Willie Chan, who was a film producer in the Hong Kong film industry. He was impressed by Jackie Chan's stunt work, as you would imagine most people would be, and he offered him a film role. He was hoping to model Jackie Chan after Bruce Lee, and he gave him the film New Fist Of Fury. He went by the name Sing Lung, which translates to "becoming a dragon." Literally.
Evidently, Jackie Chan wasn't fully accustomed to Bruce Lee's expert level of fighting, and New Fist Of Fury was also a financial flop. However, Willie Chan was not deterred. He continued to produce films for Chan in this vein, but none of them made much of an impact at the box office or for movie lovers. Then, in 1978 Chan finally got a hit. After several attempts at making a name for himself, he found success with Snake in the Eagle's Shadow.
The Early Days Of Jackie Chan's Fame
Under a two-picture deal, Jackie Chan had a one-two punch with Snake In the Eagle's Shadow and Drunken Master later that same year. The films were successful for two very key reasons. One, Jackie Chan was given complete freedom when it came to his stunt work, finally letting him excel in his own specific way. Two, the films also established a comedic kung fu genre, which was considered refreshing for movie audiences at this time in Hong Kong. While Snake In The Eagle's Shadow was definitely profitable, it was ultimately Drunken Master that pushed Jackie Chan to stardom.
It was around this time that Jackie Chan made his directorial debut with The Fearless Hyena. It was clear that Jackie Chan was growing, and it was time for him to change things around. He began to work with Golden Harvest, a transition that didn't come easily from his former collaborator Lo Wei, but he continued to work with Willie Chan, who became Jackie's personal manager and firm friend, something that stayed true for over 30 years.
It was around this time that Jackie Chan became an international celebrity. In the 1980s, Jackie Chan appeared in American productions like The Big Brawl and The Cannonball Run in 1980 and 1981, respectively. It was through the latter film that Chan became inspired to include outtakes during the credits. There were a couple attempts by Jackie Chan to break big in the American market. Yet he decided to return to Hong Kong.
It was there where Jackie Chan's fame continue to excel, notably in East Asia, with hit movies such as The Young Master and Dragon Lord. It was during these big movies, in particular, that Chan's action style was evolving, with the actor/stunt choreographer incorporating more elaborate stunts.
It was around this time that Jackie Chan was propelling himself to make the movies that would define his career forever. These iconic movies would include Project A, Police Story and Armour of God, all of which were critically acclaimed, big commercial successes and award-winning productions.
Continued Success And Hollywood Breakthrough
By this point in time, Jackie Chan was a bonafide movie star. In the late '80s and early '90s, Jackie Chan would go on to make sequels to some of his biggest movies, which continued to propel their legacies. Those movies include Project A Part II, Police Story 2, Armour of God II: Operation Condor and Police Story 3: Super Cop. He also made Drunken Master II and Police Story 4: First Strike. These movies continued to make Jackie Chan both an award-winning actor/filmmaker and a big box office sensation. But these hit movies weren't making Jackie Chan a huge name in the United States yet.
Well, that would change soon enough. Jackie Chan was finally getting the attention he deserved from Hollywood producers, but the actor refused to be typecast into the villain roles he was being offered. It was when Chan appeared in 1995's Rumble in the Bronx that he found his early success in Hollywood. The movie found a cult following in the U.S. that was considered rare for Hong Kong movie stars. Rumble in the Bronx's warm response led to Police Story 3's U.S. release, where it was retitled Supercop. Then, Chan became a Hollywood star with 1998's Rush Hour, a buddy cop movie he starred in alongside Chris Tucker.
Jackie Chan's Megastar Status
From there, Jackie Chan was everywhere. A huge celebrity all around the world, the actor made his final movie with Golden Harvest, titled Who Am I? The actor was putting himself and his name in a variety of projects, including movies, video games, animated shows and more. His Hollywood success was also continuing with 2000's Shanghai Noon and its sequel, 2003's Shanghai Knights. He also found a great deal of fame with 2001's Rush Hour 2.
It was around this time that Jackie Chan tried some new movies, allowing himself to make movies with special effects like 2002's The Tuxedo, 2002's The Medallion and 2004's Around the World in 80 Days remake. These particular movies didn't quite capture the same commercial or critical success, but it was clear that by this point in time, Jackie Chan was in the height of his fame, He was considered "the most recognized star in the world" film scholar Andrew Willis in his book, Film Stars: Hollywood and Beyond, which was released in 2004.
While Jackie Chan was still a major celebrity and a true bonafide movie star, he was seemingly dissatisfied with the restrictions that Hollywood was giving him. He felt the roles were limited and he was frustrated by the lack of creative control he found in his Hollywood projects. Also, as he was getting older, Jackie Chan had more interest his pursuing dramatic roles, particularly as he felt it was time to do less physically-intensive roles. It was also clear that there were audiences willing to see Chan push himself as a dramatic performer, with movies like New Police Story, The Myth and Rob-B-Hood doing well.
Jackie Chan would continue to make Hollywood productions from time-to-time. He made Rush Hour 3 in 2007, and he made The Forbidden Kingdom with Jet Li in 2008. He also provided his voice for a role to Kung Fu Panda 1-3. But it was with The Karate Kid remake in 2010 that American audiences were first given a chance to see Jackie Chan's dramatic potential. This potential was seen more recently with Chan's lead role in 2017's The Foreigner.
From here, Jackie Chan has continued to work, but he's also experimenting with different projects he has in the works. He is currently in post-production on his latest film, The Diary, which he wrote and directed yet does not star in. This is extremely rare for Jackie Chan as a director, but it was clear that Chinese Zodiac, his 2012 film, was considered a bit of a last hurrah in terms of his stint as an action-comedy lead and director. While he still continues to make movies as an actor and he still does some projects behind-the-scenes, it's apparent that Chan is focusing on different efforts currently.
Thankfully, Jackie Chan is still keeping busy. He will next be seen in Project X-Traction, which is a big blockbuster that also stars John Cena. He also has other movies in the work in addition to the movies mentioned above. Also, it's worth noting that Jackie Chan recently received an Oscar for his Lifetime Achievements in the world of moviemaking. In my opinion, it's well-deserved. Hopefully, we haven't seen the last of Jackie Chan. It's clear that this incredible work ethic, mixed with talent, luck, skill and persistence, led to Chan's enormous success and good fortune — both here and abroad.
When it comes to the latest films with Jackie Chan and a whole lot more, you can always be sure to check back with us here at CinemaBlend.
Your Daily Blend of Entertainment News
Will is an entertainment writer based in Pittsburgh, PA. His writing can also be found in The Playlist, Cut Print Film, We Got This Covered, The Young Folks, Slate and other outlets. He also co-hosts the weekly film/TV podcast Cinemaholics with Jon Negroni and he likes to think he's a professional Garfield enthusiast.