A Rundown Of The Times Michael B. Jordan And Lori Harvey Were So Adorable It Hurt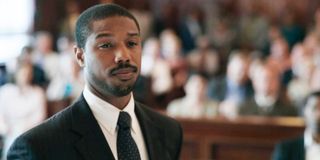 Unless you've been living under a rock, you know that People's Sexiest Man Alive of 2020, Michael B. Jordan, and Lori Harvey (Steve Harvey's daughter) are dating. The couple made their relationship Instagram official in January and have since been publicly declaring their affection for one another making the internet swoon and cry. Swoon because who doesn't LOVE love, and cry because who doesn't wish they were one half of this couple?
Make no mistake, I am happy for these two. Steve Harvey's response made me LOL, I'm all about #BlackLove, and even though it's super early I would love to see them get married and produce the world's best-looking children. But my love for Michael B. Jordan rivals that of the woman in Amazon's Super Bowl ad for Alexa, so a little piece of me died inside when he announced being officially off the market. Still, I've been invested in this relationship and here's a rundown of the times Michael B. Jordan and Lori Harvey were so adorable it hurt.
Michael B. Jordan And Lori Harvey Publicly Announced Their Relationship
On January 10th, Lori Harvey and Michael B. Jordan announced to Instagram that they were in love. But these two are too classy to write long sappy captions or really provide much of an explanation at all because while I'm sitting here analyzing everything they do, it's none of my business. Jordan kept it slightly cryptic with super dark pics and no caption as if to say "if you know, you know, and if you don't, you will" like he knew I was going to be sad and tried to spare my feelings. Harvey gave us much better lighting and a brown heart emoji, and when her friends started pouring love into the comments I couldn't help but be excited, too.
Lori Harvey And Michael B. Jordan Had Fun In The Snow
On January 13th, Lori Harvey celebrated her 24th birthday. She and bae Michael B. Jordan had a photoshoot in the snow and he shared the special moment on Instagram. The image is adorable. They're clearly happy to just be standing next to each other in the snow. But the video is where it hurts. Her playful irritation when she's really having the best time, his laugh, their faces when they fall to the ground together… they're not flaunting the relationship, they're giving us an honest look at a moment of their lives and it's so beautiful. It makes me so happy it actually burns a little, and yet I can't keep replaying it.
Michael B. Jordan And Lori Harvey Went On Vacation
On January 24th, the pair enjoyed a sunny yacht vacation and Michael B. Jordan was completely over sparing my feelings. He went full on thirst trap with this shirtless post, on which girlfriend Lori Harvey left a playful comment staking her claim (as she has every right to) and they went from sharing to bragging but I ain't mad at 'em. I will note here the reverse happened on Harvey's Instagram for those wishing they were Michael B. Jordan in this scenario. As painful as it is to witness for those of us longing to be disgustingly in love, the world needs more of it so keep on keepin' on, lovebirds.
Lori Harvey And Michael B. Jordan Supported Each Other's Careers
While I have no problem cheering myself through life, part of the beauty of having a partner is getting to share your successes, celebrate together, and have your own personal cheerleader. If that personal cheerleader looked like Michael Bae Jordan, you don't even need to enter the lottery but I digress. Michael B. Jordan and his lady love Lori Harvey have been pouring on the support for each other's career moves and every time it squeezes my lil heart.
Look at those flowers! Did the world need to see such a thoughtful gift be delivered? No, but I'm here for it. They can declare their love in private and in public and do the same with gratitude, like Lori Harvey did with this post, as much as they feel like. Spread the love even if it makes me explode.
Of course, as you've seen, Lori Harvey and Michael B. Jordan celebrate birthdays in the sweetest way. So when Jordan celebrated his 34th birthday this past week, Harvey took to Instagram to post a sweet message, along with some adorable photos.
Most recently, Harvey has launched her affordable luxury clothing brand, Naked Wardrobe. Michael B. Jordan is starring in Tom Clancy's Without Remorse, coming to Amazon Prime Video April 30. The couple has been adorably hyping one another achievements every step of the way as you can see above, and it seems they're just getting started. Wishing a long and happy future for these two! I want to hear from the fans, which of their posts so far has been the most adorable, and which the most painful?
Your Daily Blend of Entertainment News
Obsessed with Hamilton and most things Disney. Gets too attached to TV show characters. Loves a good thriller, but will only tolerate so much blood.