Keanu Reeves, Robert Downey Jr., And Other A-List Actors You Might Not Know Are Musicians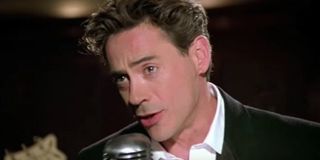 Last week, there were many folks online who made a quizzical discovery: Jeremy Renner is a musician. Or, at least, he's trying to start the fire on his music career. Having already proven himself as an actor — to much acclaim, including two Oscar nominations — in independent films and gigantic blockbusters, there's no doubt that Renner is a proven talent in the dramatic field. As a musician, though, The Hurt Locker actor has a lot to prove.
But Jeremy Renner is not alone in his musical ambitions. Indeed, there are several famous actors, including Keanu Reeves and Robert Downey Jr., who have pushed themselves into the music scene — either as a side project or in the hopes that their good fortunes in the acting world will extend into the music scene, to mixed results. They're both artistic endeavors, after all. With that in mind, let's break down some famous actors you might not know are also musicians. Or, at least, they're trying to be.
Robert Downey Jr.
Robert Downey Jr. hasn't always had a stable career, but he has found enormous success in the world of acting. Particularly with his Oscar-nominated portrayal of Charlie Chaplin in 1992's Chaplin, his Oscar-nominated supporting turn in Tropic Thunder and, obviously, his grand-standing achievement playing Tony Stark in Iron Man, the man who is largely responsible for making the Marvel Cinematic Universe what it is today (along with some others). So it's safe to say that Downey Jr. is a beloved and well-acclaimed actor, but his musical ambitions shouldn't be overlooked.
Of course, there are many television viewers who remember Robert Downey Jr.'s music-making during his time on Ally McBeal, but the famous actor also released an album titled The Futurist, which shouldn't be confused with his 2008 drama, The Soloist. The album was released in 2004, one year after the release of his 2003 film, The Singing Detective. The Futurist didn't get an entirely warm response, garnering mixed reviews from critics. But it sold 16,000 copies during its first week. Alas, this record would be his only released album.
In 2006, Robert Downey Jr. confessed that he had no desire to make another album, claiming that the energy required to make more music probably wouldn't be compensated in full. He felt it would be better to spend that time with his family and focusing on his acting career. But if you're a fan of his acting, you might've heard the song "Broken" from this album. It played during the credits of Downey Jr.'s excellent 2005 film, Kiss Kiss Bang Bang.
Keanu Reeves
Back in the early days of Keanu Reeves, around the time he became one half of Bill and Ted, Keanu Reeves was in a band. More specifically, in 1991, Reeves found himself with a choice encounter with Robert Mailhouse in a supermarket, where they bonded over hockey and soon formed the band Dogstar, where Reeves played the bass and provided backing voices for the grunge group. The band, unfortunately, just wasn't meant to be.
While Dogstar released two albums together, including 1996's Our Little Visionary, which was only distributed in Japan, and 2000's Happy Ending, as well as the 1996 EP Quattro Formaggi, the band was ultimately overshadowed by Keanu Reeves' presence. That's not to suggest that he had a huge ego or anything. Rather, it was hard for the band to tour their music when concertgoers would only look at Keanu Reeves as an actor playing music.
In an interview with GQ to promote his latest movie, John Wick: Chapter 3 - Parabellum, Keanu Reeves reflected back on his time with Dogstar and he admitted that he was disappointed with how it went down. Though, cuttingly, he also noted that it "would have helped if our band was better." Ouch!
Keanu Reeves and Robert Mailhouse went on to form another band, Becky, in 2005, but that one didn't last much longer. It was only a year when the band was split up, with Reeves not very interested in making a serious music career. But here's a fun fact: Weezer's first gig was opening for Dogstar!
Ryan Gosling
People have been acquainted with Ryan Gosling's singing before. Whether it's Gosling's pipes whistling in La La Land or Baby Ryan Gosling singing his heart out in The Mickey Mouse Club, the actor's wealth of fans know that the guy likes to sing from time-to-time. But they might not know that he is also an actual musician — if often between various acting roles. Specifically, Gosling is one-half of the indie gothic folks duo band, Dead Man's Bones.
As it turns out, Ryan Gosling's music project relates to Disney. In 2005, Ryan Gosling and Zach Shields discovered a mutual obsession with the Disneyland ride, The Haunted Mansion. This led both musicians to have a history with ghosts, and this fascination led to an interesting band. The rock duo has been together since 2007, but they've only produced one album together, 2009's self-titled debut, Dead Man's Bones, which was a collaboration with the Silverlake Conservatory Children's Choir.
Ryan Gosling wears a lot of hats inside the band. In addition to leading his voice, the actor also plays guitar, bass, piano and keyboard. If you didn't know it was him, though, there is possibly a reason why. Ryan Gosling goes under the name "Baby Goose" when he's playing music with the band. But while the band is still together and occasionally active, they've only released the one album so far. Clearly, the actor has kept very busy.
With Dead Man's Bones the ten year anniversary coming up in October, one has to wonder if they'll make another album sometime soon. But time will ultimately tell when it comes to that. Nevertheless, Dead Man's Bones does play a big role in recent horror movie history. The song "In The Room Where You Sleep" was featured in 2013's The Conjuring.
Scarlett Johansson
Much like her Avengers co-stars Robert Downey Jr. and Jeremy Renner, Scarlett Johansson is also something of a musician herself. The actress has sung in a number of her movies, including Lost in Translation, The Nanny Diaries, Her and The Jungle Book, to name a handful. However,there are many movie fans who might not know that Johansson has also produced two albums, as well as four EPs, though they have not been very well-received.
In 2008, Scarlett Johansson released her first album, Anywhere I Lay My Head, which included collaborations with members of Yeah Yeah Yeahs and the late David Bowie. The album is unique in that it contains four songs written by Tom Waits, six songs written by Tom Waits and his wife, Kathleen Brennan, and one original composition, which was written by Scarlett Johansson and David Andrew Sitek. The album received mixed reviews, but it did receive moderate commercial success.
The following year, Scarlett Johansson released her second album, Break Up, which was made in collaboration with Peter Yorn. This album was recorded in 2006, but it wasn't released until after both Johansson and Yorn released their solo albums. Johansson considered it a time-capsule of her life at that time, but the reviews weren't quite as kind. The response was, once again, mixed. Break Up was certified platinum in France, however.
Scarlett Johansson would release an EP with Peter Yorn called Live At KCRW.com in 2009. Most recently, the musician released the EP Apart in 2018. Before these two EPs, she also released Rhapsody Originals and Live Session in 2008, respectively. Evidently,Johansson's music career never caught the same attention as her acting, but she continues to make music, and it doesn't sound like the mixed response to her work has kept her away from it.
Brie Larson
Nowadays, Brie Larson is an Academy Award-winning actress best known for her work in Short Term 12, The Spectacular Now, Room and Captain Marvel, to name a few films. But there was a point early in her career where Larson had ambitions of being the next big teen pop star sensation.
Evidently, while the actress has found enormous success in the dramatic arts, her music career didn't quite pick up the same steam. Her only album to date is the 2005 release, Finally Out Of P.E., which focused on the life and times of a teenage girl trying to make it through the hassles of living. It's very apparent that Brie Larson was trying to mimic her music career in the style of fellow former teen pop stars like Avril Lavigne. This album, while squeaky clean earnest, didn't exactly turn the actress into a major music sensation, even though she filmed some music videos and clearly made an effort.
Thankfully, Brie Larson found a great deal of success in the world of acting, and it didn't take long before she set aside her music ambitions. It's always discouraging to see someone leave their music dreams behind, but Larson still made it big in the world of entertainment. So there's no need to mourn.
Jeff Goldblum
While Jeff Goldblum is world-renowned as an actor, his bluesy music career has been building some solid acclaim throughout the years. Since 2014, the actor's jazz band, The Mildred Snitzer Orchestra, have been performing weekly shows in both New York City and Los Angeles, to much acclaim. It didn't take long, particularly with the actor's notoriety, for the lively music performances to pick up notice, most notably within the past couple years.
In 2018, Jeff Goldblum and the Mildred Snitzer Orchestra released their first album, The Capitol Studios Sessions, which is a live collection of tracks that feature both Goldblum musical talents on the piano as well as his charming banter with the audience. Clearly, it's hard not to be swooned by Mr. Goldblum, and the album is a fun, upbeat, soulful and loungey album that really captures the spirit and warm personality of its lead actor/musician.
This past fall, I had the privilege of hearing Jeff Goldblum and his band perform a live musical concert at West Homestead, the actor's hometown. It was definitely a joyful, intoxicating experience, particularly with Goldlbum's charisma radiating off-the-charts when he's in person, not merely on the screen. Alas, he is an actor first and foremost. This musical ambition is an active part of his life, but he is famous for acting and being a living meme.
Robert Pattinson
While Robert Pattinson has gained a lot of notice for his acting work, he has been a musician for just as long — if not longer. He plays the guitar and the piano, but more than that, he also composes his own music. He has held an interest in music since early in life, and he has been making music for nearly as long as he has been acting, even though he doesn't get as much attention for his musical work as he does for performing in big and small films.
Nevertheless, if you're a Twilight fan, you probably heard a song or two from Robert Pattinson. He is the singer of two songs on the Twilight soundtrack, specifically "Never Think" and "Let Me Sign." Additionally, Pattinson played the guitar on the Death Grips song, "Birds," back in 2013.
Additionally, Robert Pattinson did a good bit of singing in the underrated 2008 dramedy How To Be, and he made three original songs for the movie. He also helped with the music for his recent film, Damsel, which is also underrated. Additionally, he made some music for High Life, specifically "Willow" which he collaborated with Tindersticks. Even though he mostly keeps himself busy as an actor, it's clear that music plays a big role for him.
There are other actors who dabble in the world of music. For instance, there's also Johnny Depp, Zooey Deschanel, Kevin Costner, Russell Crowe, and Bruce Willis. They've all tried their hand at music, to mixed results, throughout the years. One thing should be made clear: Jeremy Renner is not alone here.
Will is an entertainment writer based in Pittsburgh, PA. His writing can also be found in The Playlist, Cut Print Film, We Got This Covered, The Young Folks, Slate and other outlets. He also co-hosts the weekly film/TV podcast Cinemaholics with Jon Negroni and he likes to think he's a professional Garfield enthusiast.
Your Daily Blend of Entertainment News
Thank you for signing up to CinemaBlend. You will receive a verification email shortly.
There was a problem. Please refresh the page and try again.