Sally Field And Julia Roberts Cursing On JKL Is Hysterical... And We Want The Uncensored Video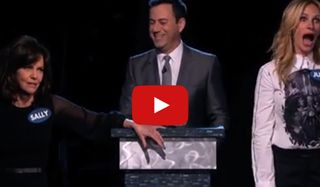 Last night on Jimmy Kimmel Live, Julia Roberts and Sally Field faced off in a good old-fashioned Celebrity Curse-Off. Watch the censored video below...
Even with the swearing bleeped out, the segment is still funny, mainly because of how casual Sally Field is about swearing, while Julia Roberts repeatedly screams between words, showing extreme(ly amusing) discomfort at uttering naughty words on camera. Eventually, Roberts' chosen words are so tame that they're not even being bleeped out. "Butthole?" And then she resorts to referencing certain sexual acts, which probably aren't the kind of topics you want to bring up at a fancy dinner or have to explain to your grandma, but aren't technically prohibited for television.
Sally Field, meanwhile, continues to find new and exciting ways to get herself bleeped. And it leaves us desperately wishing to hear the foul-mouthed uncensored version of this video. Please, Jimmy Kimmel Live, make it happen! While network TV might not be ready to hear the Flying Nun curse like a sailor, the internet certainly is, right? We can guess quite a few of these with a bit of lip reading. But I really need to know what word she got from her son that caused Jimmy to say "Oh my God!" Maybe not knowing is funnier. But I still want to know! Either way, I think Sally Field won this curse off.
On a related note, for those now craving bad words, here's a classic comedy segment, in which George Carlin explains the 7 words you can never say on television...
And you can catch more of both Julia Roberts and Sally Field's visits to Jimmy Kimmel Live over on the JKL YouTube Channel.
Your Daily Blend of Entertainment News
Thank you for signing up to CinemaBlend. You will receive a verification email shortly.
There was a problem. Please refresh the page and try again.