See One Of The Most Twisted And Hilarious Board Games Ever Made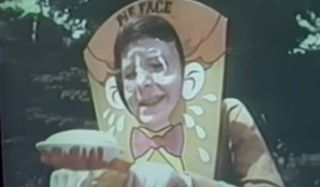 We all had our favorite board games as kids. Whether you loved wasting away hours on an endless game of Monopoly, liked to get tricky with Trouble, or were into some of the more colorful classics like Hungry Hungry Hippo, you likely had game that stood above the rest. And then there were the ones that were simply made to inspire gut-wrenching laughs. And that's where Hasbro's Pie Face comes in. The Russian roulette style of the game makes it a bit twisted, but the outcome is absolutely hysterical. Take a look:
The game itself is a bit sadomasochistic, but I think what really makes it hilarious is watching a little boy's laugh as he anxiously anticipates getting 'pied in the face'. Not to mention when the dad falls over laughing after the boy gets whipped cream all up in his eyes. It's a little bit twisted to be playing Russian roulette with a kid who looks 10 years old, tops though. And while we'd all love to watch someone we know get pie in the face, it is pretty humiliating and hidden beneath bellowing laughs is quite the dark concept. But, come on, it's just so darn funny, so where can we get one?
Unfortunately, the game is no longer for sale. According to Tracy's Toys the game was originally made by Hassenfeld Bros, now known as Hasbro, back in 1968 and it was billed as "the most fun-filled action game you've ever played!" There was a 15.5" target made of cardboard which was designed to make the player look like a clown, a spinner score sheet, and of course the crank-styled pie launcher. The clicking of the crank seems incredibly nerve-wracking. There was even a fun television commercial which may sound familiar to anyone growing up in the 60s.
Damn that's catchy. Though not sure the image of a kid cringing with a plastic mask over his face is a real selling point. But hey, I'm sure anyone with a younger sibling at that age would like to to cause a little torment, and here's a family-friendly way to do it. What do you think?
This poll is no longer available.
Your Daily Blend of Entertainment News
Your Daily Blend of Entertainment News
Thank you for signing up to CinemaBlend. You will receive a verification email shortly.
There was a problem. Please refresh the page and try again.