Will She Or Won't She: Can Courtney Stodden Negotiate To Get Into Playboy?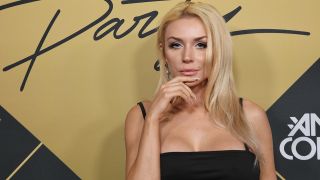 (Image credit: (Photo by Robin L Marshall/Getty Images))
Courtney Stodden is most famous for marrying a much older celebrity at the age of 16. The young starlet was ready to become a famous face, but now she's 18 and she's ready to try to push her career through the pages of a magazine. Stodden recently spoke out to say she was considering a career in porn, but later reconfigured her platform to state she would rather do a spread in Playboy Magazine.
The starlet took to Twitter on Saturday to confirm she was game to be in the magazine, but TMZ says Playboy is not down with offering the wife and model any sort of opportunity. According to the news site, Stodden looks a little too "enhanced" for the magazine, and would not appeal to readers.
TMZ may have jumped the gun this time around, however. "Enhanced" or no, Stodden and her manager mother, Krista Keller, are both saying the possibility is feasible. In fact, a photoshoot may already be in the works.
Keller had much the same thing to tell E! earlier today.
One thing is for certain: whether or not the 18-year-old gets her picture in Playboy, if talks are going down, those have to be pretty bizarre negotiations for her mother to complete.
Your Daily Blend of Entertainment News