Tigger Caught By 3-Year-Old Girl Having Sex In Baby Changing Room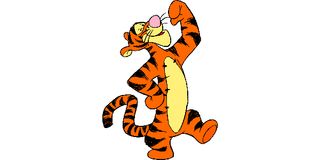 Okay, 'fess up -- where's the weirdest place you've ever had sex? The backseat of a car? Yaaaaawn. An airplane washroom? Sooooo 1998. Apartment hallway? Too dangerous. How about a baby changing room while dressed as a loveable A. A. Milne character? Now we're talking.
In a bizarre story out of the UK, angry grandmother Maryanne Saunders posted to Facebook claiming her three-year-old granddaughter witnessed two strangers having sex in a public washroom. The woman was butt naked, but the man was apparently dressed in a Tigger costume. Here's the post she submitted to Dawlish Neighbourhood Police in its full (frontal) glory…
Ummm… bouncing's what Tiggers do best? You have to admit, as awful as this "disgusting act" is for the little kid, it's kind of funny. I can't condone the door slamming (and yet more irrevocable damage to innocence), but kudos to them if they found a changing table that supports the full weight of an adult. Hopefully they didn't roll around in any Pooh. Oh, bother.
Winnie the Pooh puns aside, this isn't the first costumed copulating tiger story to come out of the UK recently. Just last week a man was charged for possessing a video of a woman having sex with a tiger, which was only proved to be a fake when cops finally watched it with the volume on. No joke, they realized their mistake when the "tiger" was heard uttering the Frosties catchphrase "They're grrrrreat!" As Huffington Post felt they had to explain so eloquently, "While Tony The Tiger, the animated talking mascot for Frosties cereal says this, real tigers do not."
We'll let you know if anymore classic Winnie The Pooh characters are caught in compromising situations.
Your Daily Blend of Entertainment News
Thank you for signing up to CinemaBlend. You will receive a verification email shortly.
There was a problem. Please refresh the page and try again.