Watch Angelina Jolie Give An Inspiring Speech After Winning Best Villain At Kids' Choice Awards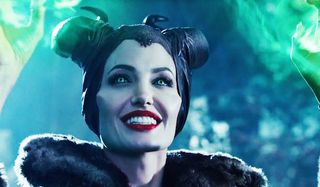 Actress and director Angelina Jolie was on hand at the 2015 Kids' Choice Awards last night where she was up for Favorite Villain for her work in Robert Stromberg's Maleficent. Upon winning the award she hugged her kids Shiloh and Zahara before taking the stage to accept her award and subsequently deliver a most uplifting speech. Check out the clip below.
As you can see in the above vid, Jolie seems quite inspired as she delivers her words of encouragement to her energetic viewers. Personally, I think anytime an actor or actress (or anyone for that matter) chooses to use the microphone to empower others, it's only a good thing. Many, if not all children, know what it feels like to be an outsider or to feel like they do not fit in and Jolie's inspiring speech can help many kids see that they aren't necessarily alone in feeling different.
While not seen in the above clip, the actress went on to say "When someone tells you that you are different, smile and hold your head up and be proud," adding that it's okay to "cause a little trouble... it's good for you."
Jolie has been on a roll lately, most recently having won several awards for her second directorial effort, 2014's Unbroken. The film even grabbed three Academy Award nominations, including a nod for Best Cinematography—although it didn't come away with any wins. More recently Jolie was even rumored to be in consideration to direct Marvel's first female-led superhero movie Captain Marvel.
On the acting front, Jolie can next be seen teaming up onscreen with husband Brad Pitt in By the Sea, of which she also wrote and directed. That film is currently in post-production and looks as though it will have a 2015 release. This will be the big screen reunion for the Hollywood couple who last appeared together in 2005's Mr. & Mrs. Smith.
Your Daily Blend of Entertainment News
Thank you for signing up to CinemaBlend. You will receive a verification email shortly.
There was a problem. Please refresh the page and try again.