Watch Europe Get Pranked By An Invisible Driver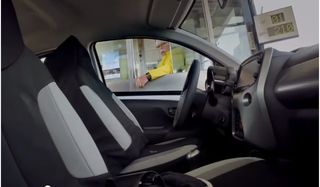 If you've ever worked in retail or fast food, you know pranksters are by far the most annoying customers that come in, other than those in a fit of rage that would make the Hulk look like a knitting granny. While sometimes silly antics can be irritating, they are always hilarious to watch when you're not at work. One jokester took his prank across the ocean to get some big laughs from his audience and bewilder folks working in service industries across the continent.
YouTube user MagicofRahat recently took the "invisible driver" prank to Europe. While the whole thing does kind of seem like an ad for Toyota, I knew the reactions of unassuming workers would be pretty priceless. First, we see Rahat hop into a shiny new Aygo wearing a car seat suit that allows him to blend into the car while still being able to see while driving. He rolls up to a toll booth where an unassuming elderly man simply asks, "What is this shit?"
Next cut to a shot of the car's front end highlighting the brand name, while Europeans look into the car to try to figure out what the hell is going on. A bell man and fast food worker both look puzzled at the car that seems to be without a driver. Eventually the girl at the drive thru and her co workers chuck a bag into the car and watch it speed off. My favorite moment has to be the guy in the car wash being utterly confused about an empty car piloting itself. A police officer on a motorcycle even attempts to pull over the vehicle.
And yes, this is a big Toyota ad just as I expected. The end shows the cute little car in a variety of colors along with the new motto "Go Fun Yourself." While this is quite creative, I can't help but feel that the video was a little to shiny and polished. One of the things that makes these tricks so damn funny is the amateur nature of the pranks. Adding a corporate element just makes it seem fake. All in all though, the invisible driver trick I think is here to stay. Just don't do it when I'm behind you at McDonald's because I want my food as fast as possible.
In a decidedly less corporate video, check out Rahat's haunted shopping cart trick above. The shock on the faces of all the shoppers is totally laugh worthy. I still can't quite figure out how he did it, but he managed to not do too much damage to any racks in the store. I would definitely be destroying everything with my poor depth perception and clumsiness.