Watch Kate Hudson Belt Out The Star Spangled Banner In Her Pajamas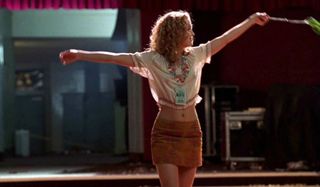 Today marks a special day for all you fellow Americans out there. So naturally, our favorite celebrities are out celebrating, potentially in grander ways than we could even imagine, but for Kate Hudson, all she wants to do is sing. And she's definitely got the chops. Watch as Hudson shows off her patriotism, and her vocal chops, while dancing in her pajamas.
It may just be me, but whenever I see Kate Hudson, I automatically go back to Almost Famous and her character, band groupie, Penny Lane. It has less to do with that being one of her most critically acclaimed roles along with an Academy Award nomination for Best Supporting Actress and more to do with the fact that I think the actress and that character are incredibly similar (or at least I hope they are). Hudson always comes off as a happy goofball, and not in the Jennifer Lawrence tripping at the Oscars type thing, more in the happy hippie dancing through the streets type goofball.
But seriously, who knew Kate Hudson was so damn patriotic? The star posted this video on Instagram in the early morning, but I'd like to think there's a little something special in that mug of hers. No matter, the woman definitely can sing, as she belts out the "Star Spangled Banner". Along with her pajamas and sunglasses, it is quite the show. But then again, Penny Lane had shown off some of those vocals in Almost Famous. Ah "Tiny Dancer", it just gives me fuzzy feelings thinking about the scene. For your own enjoyment:
Aside from gracing us with her powerful voice, Kate Hudson has been staying busy on the acting forefront. You can see her next in the rock and roll comedy (because, of course) Rock the Kasbah which features Bill Murray as the leading rock manager aside Bruce Willis, Zooey Deschanel, Leem Lubany, Danny McBride, Scott Caan and more. Rock the Kasbah is scheduled for release October 23. Hudson is also working on a more dramatic project which explores the Deepwater Horizon explosion and oil spill. She's slated to play the wife of Mark Wahlberg's leading character. Deepwater Horizon has only recently began principal photography, so it's not scheduled for release until September 2016. As for any musical projects Hudson may be working on, we haven't heard anything, but I vote an Almost Famous cover soundtrack sung entirely by Hudson. Where can I send my money?
Your Daily Blend of Entertainment News
Thank you for signing up to CinemaBlend. You will receive a verification email shortly.
There was a problem. Please refresh the page and try again.