Watch This Poker Player Lose A Million Dollars Holding Pocket Aces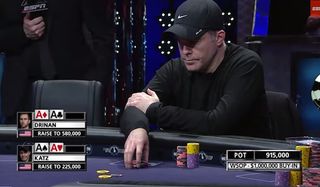 Pocket aces is a good hand, but it's not an unbeatable hand in Texas Hold'em. One poker player learned that lesson the hard way, as evidenced by the above video, which shows poker players Connor Drinan and Cary Katz going all in. Each of them has a great hand, but as is often the case, one of them has a better hand. It all comes down to the river!
As you can see, Drinan and Katz have similar hands, both holding two aces, so confident betting was likely to ensue. After much consideration and a bit of raising, the two go all-in. And we're left to hold our breaths as we wait for the flop to fall...
And that's when they discover their hands are very similar. There are a number of ways either player could have won or lost this hand (different variations of flushes), and in the end, the only thing Katz needed to win was the Ace of Hearts he was holding, which topped off a very nice flush, beating out his own two pair and Connor Drinan's two pair as well. USA Today notes that Drinan was knocked out of the tournament in 18th place.
Taped at the World Series of Poker $1 million buy-in tournament, ESPN posted the video last week, and it has already accumulated nearly six million views at YouTube.
YouTube has no shortage of poker hand videos, though few probably rack up that many views in such a short period of time. Check out a couple other great poker hand videos after the jump!
Your Daily Blend of Entertainment News
Thank you for signing up to CinemaBlend. You will receive a verification email shortly.
There was a problem. Please refresh the page and try again.