Supported
12 Romantic Comedies And Dramas To Watch Streaming For Free On Plex
Plex has the comedy and drama of romance.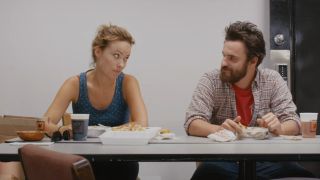 (Image credit: Magnolia Pictures)
Romance movies, no matter if they fall on the respective comedy or drama ends of the spectrum, have long been some of the most popular titles throughout the history of the cinema. Over the years, they've made us cry tears of joy and tears of sorrow as their expertly written, directed, and acted stories are brought to life in spectacular fashion before our very eyes.
As we start to celebrate Valentine's Day, and as part of CinemaBlend's ongoing partnership with Plex, where you can find multiple free titles (opens in new tab) going back to Hollywood's golden age, we have put together an expansive collection of great options to check out with that special someone in your life (or completely on your own). Here are just 12 of the best romance-heavy dramas and romantic comedies on Plex.
The Curious Case Of Benjamin Button (2008)
David Fincher's 2008 fantasy romance movie The Curious Case of Benjamin Button, which happens to be loosely based on F. Scott Fitzgerald's short story of the same name, tells the fantastical story of a man who ages in reverse, and the woman who's madly in love with him. Anchored by Brad Pitt's enchanting portrayal of Benjamin Button and Cate Blanchett's Daisy Fuller, not to mention some incredible special effects, this romantic epic pieces together one of the most unforgettable tales of modern cinema, as well as one that defies age and reality to showcase the true meaning of unconditional love.
Stream The Curious Case of Benjamin Button on Plex (opens in new tab).
The Ex (2006)
Released in 2006, Jesse Peretz's romantic comedy The Ex follows Tom Reilly (Zach Braff), a soon-to-be dad with a less-than-stellar professional history as he takes on a job at his father-in-law's (Charles Grodin) advertising agency to make ends meet for himself and his pregnant wife (Amanda Peet) as she prepares to take time off to give birth to their child. If that wasn't hard enough, Tom soon finds himself crossing paths with Chip Sanders (Jason Bateman), his wife's overachieving paraplegic ex-boyfriend who decides to treat his new co-worker with nothing but disdain and disrespect.
Stream The Ex on Plex (opens in new tab).
Paris, Je T'aime (2006)
The mid-to-late 2000s gave birth to multiple anthology films, with one of the best being the 2006 star-studded affair Paris, je t'aime (or Paris, I Love You). Over the course of two hours, Paris, je t'aime features 18 short films directed by the likes of Bruno Podalydes, Gus Van Sant, the Coen brothers, Alfonso Cuaron, Alexander Payne, Wes Craven, and more. The stories told throughout the film, which include performances from everyone ranging from Natalie Portman to Steve Buscemi, range in scope, scale, and even genre, with a mix of drama and comedy, and sometimes, something in between.
Stream Paris, je t'aime on Plex (opens in new tab).
Drinking Buddies (2013)
A few years before finding mainstream success with Netflix shows like Love and Easy, but after he made a name for himself with brutally honest and incredibly funny indie films, filmmaker Joe Swanberg wrote and directed the 2013 romantic comedy Drinking Buddies. Set in Chicago, the movie follows two longtime friends and brewery coworkers Kate (Olivia Wilde) and Luke (Jake Johnson) as they navigate their respective faltering romantic relationships while also trying to deal with the pressures of their complicated friendship. With a supporting cast that includes Anna Kendrick, Ron Livingston, and Jason Sudeikis, Drinking Buddies is charming, honest, and at times, incredibly awkward.
Stream Drinking Buddies on Plex (opens in new tab).
Cashback (2006)
Based on Sean Ellis' short film of the same name, Cashback centers on Ben Willis (Sean Biggerstaff), an art school student suffering from insomnia and a bad breakup who takes an overnight job at a local grocery store to pass his sleepless nights. Incredibly bored in his position, Ben begins to toy with the idea of slowing down time so that he can paint the various customers who come into the store at night. However, what was once his imagination turns into a reality, becoming a unique yet damaging coping mechanism, especially when a new relationship is put to the ultimate test.
Stream Cashback on Plex (opens in new tab).
If Beale Street Could Talk (2018)
Barry Jenkins' 2018 romantic drama If Beale Street Could Talk, which was based on James Baldwin's 1974 novel of the same name, explores how racism and false accusations can impact relationships. Set in 1970s New York City, the movie follows Tish Rivers (KiKi Layne) and Fonny Hunt (Stephan James) as their lives are turned upside down after the latter is falsely accused of assaulting a woman and is facing serious jail time. With Fonny behind bars and their child on the way, Tish turns to her family for support, including her caring and compassionate mother, Sharon, a role that earned Regina King an Oscar for Best Supporting Actress at the 2019 Academy Awards.
Stream If Beale Street Could Talk on Plex (opens in new tab).
Tortilla Soup (2001)
Loosely based on Ang Lee's 1994 romantic comedy-drama Eat Drink Man Woman, Maria Ripoll's Tortilla Soup follows aging chef Martin Naranjo (Hector Elizondo) as he navigates a world in which he is slowly losing his sense of taste and his adult daughters enter serious romantic relationships. While those and other factors, including the arrival of a romantic partner played by Raquel Welch, further complicate the family's situation, one thing remains constant: Sunday dinner with the whole family. Humor, drama, and a beautiful portrait of a dynamic family make this one you don't want to miss.
Stream Tortilla Soup on Plex (opens in new tab).
Fever Pitch (1997)
Not to be confused with the 2005 American remake starring Drew Barrymore and Jimmy Fallon, David Evans' 1997 sports-centric romantic comedy Fever Pitch is a more faithful adaptation of Nick Hornby's beloved novel about a man, a woman, and the Arsenal football club. The movie follows die hard Arsenal fan Paul Ashworth (Colin Firth) as he attempts to navigate his increasingly serious relationship with Sarah Hughes (Ruth Gemmell), a woman, who, despite falling madly in love with the man, fails to share his same passion (or obsession) with all things sports, including his beloved Arsenal. Much like the Farrelly Brothers' retelling of the story, the British version has something for everyone, whether they're looking for romance or an all-time great sports story.
Stream Fever Pitch on Plex (opens in new tab).
2 Days In New York (2012)
Julie Delpy, best known for her work in the Before trilogy with Ethan Hawke, wrote, directed, and starred in the 2012 romantic comedy 2 Days in New York, a film that saw her share the screen with Chris Rock. In the movie, Delpy and Rock play Marion and Mingus, a couple whose relationship is put to the test when the former's family comes to visit from France, leading to a clash of cultures, ideals, and values. All of this leads to two days no one will ever forget, even if they try to purge the memories from their brains.
Stream 2 Days in New York on Plex (opens in new tab).
My Blind Brother (2016)
Sophie Goodhart's 2016 romantic comedy My Blind Brother follows Rose (Jenny Slate) as she becomes the target of affection from competing brothers: the overachieving yet blind Robbie (Adam Scott) and underachieving yet non-visually-impaired Bill (Nick Kroll). Similar to other comedies starring Jenny Slate like Obvious Child and Landline, My Blind Brother sees the former Saturday Night Live featured player show off her natural sense of charm while also featuring to underappreciated performances by Scott and Kroll, whose brotherly relationship makes you believe they are in fact related in real life.
Stream My Blind Brother on Plex (opens in new tab).
Learning To Drive (2014)
Patricia Clarkson and Ben Kingsley star in Isabel Coixet's (who also directed a segment in Paris, je t'aime) 2014 romantic comedy-drama Learning to Drive, a smart, touching, and oftentimes hilarious exploration of rebirth following the dissolution of a longtime relationship. In the movie, Patricia Clarkson plays book critic Wendy Shields, a woman who turns to taxi driver Darwan Singh Tur (Ben Kingsley) after her failed marriage results in her needing to be more independent, and learn how to drive. Though this is more a friendly comedy, romance is still a core part of this fun and charming 90-minute movie.
Stream Learning to Drive on Plex (opens in new tab).
A Royal Affair (2012)
And then there is Nikolaj Arcel's 2012 historical drama A Royal Affair, an epic drama chronicling the love affair of Caroline Matilda of Great Britain (Alicia Vikander) and Johann Friedrich Struensee (Mads Mikkelsen), and how their relationship brought major change to Denmark in the late 18th Century. This sprawling story, which sees Johann start out as a friend and advisor of Caroline's husband Christian VII of Denmark (Mikkel Folsgaard) before becoming the nation's de facto leader, is full of politicking, drama, and timeless romance with the backdrop of societal change.
Stream A Royal Affair on Plex (opens in new tab).
This is just a small portion of the movies that are available to stream for free on Plex, as there countless other romantic comedies, sprawling dramas, and just about every other genre imaginable available with nothing more than a few clicks.
Your Daily Blend of Entertainment News
Philip grew up in Louisiana (not New Orleans) before moving to St. Louis after graduating from Louisiana State University-Shreveport. When he's not writing about movies or television, Philip can be found being chased by his three kids, telling his dogs to stop yelling at the mailman, or yelling about professional wrestling to his wife. If the stars properly align, he will talk about For Love Of The Game being the best baseball movie of all time.