Supported
Shazam! 5 Things To Remember From the First Movie Ahead Of Fury Of The Gods
Luckily, it does not take the power of superintelligence to remember these details.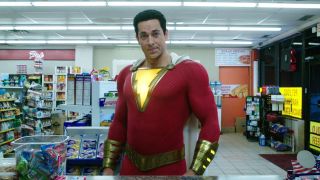 (Image credit: Warner Bros. Pictures)
Those who know me might be quick to assume that my favorite movies from the DC Extended Universe (opens in new tab) would be the ones starring Ben Affleck as Batman, which would not be a bad guess at all. However, I actually have a special soft spot for 2019's Shazam!, in which Asher Angel plays a 14-year-old boy who is given the power to transform into an adult-sized champion (Zachary Levi) with an arsenal of many other extraordinary abilities. Needless to say, I am as giddy as a child who just happens to look like a grown man to see what is in store for Billy Batson and his family of fellow superheroes in the upcoming, highly anticipated follow-up, Shazam! Fury of the Gods.
In preparation for when the sequel hits theaters I revisited director David F. Sandberg's first foray into the comic book movie genre and it not only reminded of what a fun, action-packed, fantasy adventure it was, but also some of the more crucial story details and game-changing plot twists that I am sure will come in handy to know come Friday, March 17th. In partnership with AMC Theatres, where tickets are currently on sale (opens in new tab), the following are some facts from the first Shazam! movie that you might want to make sure you have fresh in your memory before you see Shazam! Fury of the Gods (opens in new tab). (Spoiler Alert: As you might imagine, the following article contains several in-depth descriptions of many crucial plot details from Shazam! )
Billy Became Part Of A Foster Family
We discover in a flashback that, when Billy Batson was just four years old, he became separated from his mother (Caroline Palmer) during a visit to the local carnival in Philadelphia and that was the last he ever saw of her. Ten years later, the now troubled teen would meet his newest foster parents, Victor (Cooper Andrews) and Rosa Vásquez (Marta Milans).
His new siblings include superhero obsessive Freddy Freeman (Jack Dylan Grazer), college hopeful Mary Bromfield (Grace Caroline Currey), seven-year-old Darla Dudley (Faithe Herman), gaming expert Eugene Choi (Ian Chen), and the shy Pedro Peña (Jovan Armand). For most of his childhood, Billy continually ran away from his foster homes, but after a reunion with his biological mother turned out not like he hoped, he came to accept these people as his true family.
A Wizard Made Billy A Superhero
After Dr. Thaddeus Sivan (Mark Strong) successfully finds the Rock of Eternity and harnesses the power of the Seven Deadly Sins, Shazam – the last of the Counsel of Wizards, played by Academy Award nominee Djimon Hounsou – grows desperate to find someone who is pure of heart to take the place of his new champion. This leads him to summon the help of Billy Batson, whom the Wizard makes into a fully grown, super-powered being transferring unto him classic comic book hero abilities such as flight, super strength, super speed, invincibility, and lightning blasts.
The true source of his powers are derived from mythological figures Solomon, Hercules, Atlas, Zeus, Achilles, and Mercury. Atlas' daughters, Hespera (Academy Award winner Helen Mirren) and Kalypso (Lucy Liu), are the central antagonists of Shazam! Fury of the Gods and it appears that they may want their father's power back, which is why these vengeful celestials also have it out for Billy's siblings.
Billy Gave His Siblings Powers
In the action-packed third act of Shazam!, Billy is struggling against Sivana, who can only be defeated if he is physically separated from the spirits of the Seven Deadly Sins. In an effort to try to make this so, Billy uses the Wizard's staff to imbue his siblings with his powers, turning them into powerful, fully-grown champions like himself.
Some members of the Shazam Family have powers that are unique from their other siblings (save Billy) – such as Eugene (played in adult, superhero form by Ross Butler), who can generate electricity, and Darla (Meagan Good) who is about as fast as The Flash or Superman. However, all of them – also including Freddy (Adam Brody), Mary (played by Michelle Borth in the first film, but by Currey in the sequel), and Pedro (D.J. Cotrona) – have superhuman strength, stamina, and flight in common.
The Shazam Family Has A Lair
When Billy first gains his powers, Freddy uses his immense knowledge of all things related to superheroes to act as his mentor. One thing he is especially concerned about is helping his super-powered brother obtain his own special "lair," similar to Superman's Fortress of Solitude or Batman's Batcave. It is not until near the end of the film when that goal is finally accomplished.
After the Shazam Family has finally defeated Sivana by removing the orb housed the power of the Seven Deadly Sins from his eyehole, they return it to the Rock of Eternity, which they then decide to claim as their own superhero lair now that the Wizard is gone. However, Djimon Hounsou has appeared in the promotional material for Shazam! Fury of the Gods, so we at least know that he is returning for the sequel somehow.
Sivana Met Mister Mind In Prison
Someone who is, seemingly, not set to appear in Shazam! Fury of the Gods is Mark Strong as Thaddeus Sivana. However, I hope that we at least get a hint at his current whereabouts because – and I think I speak for most DC fans here – I would love to see some sort of payoff to his Shazam! mid-credit scene.
While wasting away in a solitary prison cell covered with mystic runes he has been scribbling along the walls, Sivana receives an unexpected visit from a talking caterpillar, expressing interest in teaming up with the disgraced villain in hopes to exact revenge against the Shazam Family. This pint-sized insect (voiced by director David F. Sandberg) is actually a criminal genius known as Mister Mind, who is best known as one of Billy Batson's most notorious enemies from the comics.
Considering how Shazam! Fury of the Gods is posited to be one the last films of the DC Extended Universe before Peter Safran and James Gunn take the franchise in a whole new, canonical direction, that Shazam! mid-credits might actually be the last we end up seeing of either Sivana or Mister Mind. However, it was still worth revisiting for this retrospective of one of the most fun superhero movies in recent memory. See Billy Batson and the rest of the Shazam Family return for their latest adventure at an AMC Theatres Dolby Cinema opening weekend and receive a free tie-in comic book (opens in new tab)! And if you haven't already, you can get tickets to your favorite AMC Theatres location on their site (opens in new tab).
Your Daily Blend of Entertainment News
Jason has been writing since he was able to pick up a washable marker, with which he wrote his debut illustrated children's story, later transitioning to a short-lived comic book series and (very) amateur filmmaking before finally settling on pursuing a career in writing about movies in lieu of making them. Look for his name in just about any article related to Batman.