Mischief Managed: Virus Targets Harry Potter Fans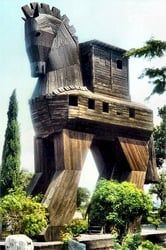 Look out Harry Potter fans. Magic may not be functional for all of us muggles, but there are still evil things afoot, and right now you're being targeted by one of them: PC World is reporting a new virus spreading across the internet, specifically targeting fans anxious to get their hands on the final volume of Harry's adventures.
The virus comes in the form of an e-mail that offers a free copy of Harry Potter and the Deathly Hallows, which isn't set to hit shelves until July 21st. Instead of the book, the file installs the W32/Hairy-A worm on their computers. The virus affects USB drives, which then carry the virus to other machines, especially if the computers have USB drives set to "auto-run".
The file installed on the USB drives, "HarryPotter-TheDeathlyHallows.doc" doesn't actually include the text for the novel, just the repetition of the phrase, "Harry Potter is dead." Infected computers suddenly find themselves with several new users: Harry Potter, Ron Weasley, and Hermione Granger. Additionally, Internet Explorer has its start page redirected to an Amazon.com page listing a Harry Potter spoof book, "Harry Putter and the Chamber of Cheesecakes."
The virus is listed as a Trojan Horse, so while additional users and a IE redirect seems harmless, the damage could be much worse over time.
So, if your best friend in the whole world sends you this offer for a free copy of the new book, don't click on it. Don't trust it. Watch out for USB drives that might be infected and, as always in the computing world, use caution. If an offer seems too good to be true, it probably is.
Your Daily Blend of Entertainment News
Thank you for signing up to CinemaBlend. You will receive a verification email shortly.
There was a problem. Please refresh the page and try again.