12 Days Of Christmas: The O.C. And The Best Chrismukkah Ever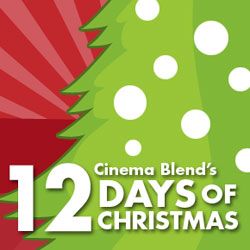 It's time to celebrate the Christmas/ Chanukah/ Kwanza/ Festivus Holiday season, so all around Cinema Blend we're enjoying Twelve Days of Christmas. Yes, we know traditionally the "12 days" start with Christmas, but we plan on being celebrated out by that time, so we're pushing the twelve days leading up to the holiday.
Here in Blend Television we're celebrating by counting down our some of our all time favorite holiday episodes, in an effort to boost your Christmas spirit. These aren't the 12 best out there by any means, just twelve of our favorites. Some of them you might enjoy like we do. Others you might want to check out for the first time. So without further ado:
On the second day of Christmas, my true love gave to me…
Rachel Bilson dressed up as Wonder Woman.
"So what's it gonna be, huh? You want your menorah or a candy cane? Hmmm...Christmas or Chanukah?" Iin this house, you don't have to choose! Allow me to introduce you to a little something that I like to call... Chrismukkah!" With Seth Cohen's dramatic declaration, a new holiday was born.
The O.C.'s first Chrismukkah episode appeared halfway through its first season, right when even people like me, who ordinarily never would have been caught dead watching a teen drama, were tuning in. It was O.C. mania, and even the skeptics had been converted. Seth Cohen's unabashed holiday spirit forced even the grinchiest people to embrace the "new holiday that's sweeping the nation."
The Chrismukkah episode speaks to the holiday-disenchanted among us, those for whom the holidays just make things worse. The holidays make Marissa dwell on her recently broken family, while with Ryan, they conjure up memories of drunken fights and ass-kickings from his mother's boyfriends. As he succinctly put it in one scene, "If there's drinking, crying and cops, well, then it must be Christmas."
What this episode teaches us is that even if we have bad Christmas memories, chances are we don't have bad Chrismukkah memories, so why not start anew? It's hard to argue with a holiday in which a guy like Seth Cohen can get the gift of Summer Roberts dressed up as Wonder Woman, or a guy like Ryan Atwood can be a part of a loving, stable family. The episode ends with Ryan posing with the Cohens for their first-ever Chrismukkah card as a family. Say it with me now, "aww."
Read all of Cinema Blend's 12 Days of Christmas features in other sections by clicking here.
Your Daily Blend of Entertainment News