15 Episodes Ordered For Major Crimes' Season 2 On TNT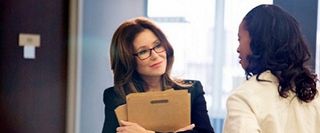 TNT has renewed Major Crimes for a second season. This isn't surprising news, considering the show currently holds title as cable's top new drama of 2012. The series, which is a spinoff of another TNT hit, The Closer, has been given a 15-episode order and is scheduled to return to the network for a summer run in 2013.
Major Crimes stars Mary McDonnell as Captain Sharon Raydor and is currently nearing the end of its first season run. The finale is scheduled to air in October. The show has been averaging about 7 million viewers each week. It's among a number of successes for TNT with new series this year. TNT has already renewed its reboot of the classic 80's series, Dallas, and has also given a second season to the Eric McCormack-led Perception, both of which did well in their freshman runs.
TNT said goodbye to The Closer just one day before premiering
[[ major crimes ]]
[[ major crimes ]] , letting audiences move right on to the next chapter, which seems to have worked. Ending The Closer was Kyra Sedgwick's call, but it sent the series out while it was still at the top of its game. It seems that Major Crimes has easily stepped into the space left behind. The new series opened to cable's biggest audience for a series premiere and has been holding steady ever since.
Without The Closer's recent finale to push audiences in the direction of Major Crimes, it might not have the same numbers next year. Then again, TNT does seem to be on a roll, and the network is showing confidence in the new drama with a second season that's 5 episodes longer than the first.
Your Daily Blend of Entertainment News