Brian Williams Is Making A Comeback, Here's How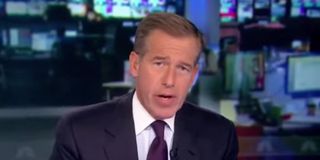 The television news circuit changed in a big way when long-time host Brian Williams was ousted from NBC's Nightly News in a major scandal in 2015. He made the jump to MSNBC in 2016 for a much smaller role in news, but it now looks like Williams is getting the chance to make a big comeback. Williams will host his own show on MSNBC in the not-too-distant future.
Brian Williams will anchor a half-hour show at 11 p.m. ET on MSNBC in order to recap the presidential election news of a given day, according to Deadline. The 2016 presidential campaigns for both candidates have been filled with twists, turns, and gaffes on a seemingly daily basis; it makes sense that MSNBC would want a big name and familiar face to sort out the coverage for viewers. The show will be the first regularly scheduled program for Williams since leaving NBC in 2015. He's spent recent months working as a daytime breaking-news anchor for the cable network, although he has gotten some higher profile work next to Rachel Maddow during primary events.
The MSNBC gig seems like a big step down from Brian Williams' previous work as the anchor of NBC's Nightly News, which was a post that he held for nearly eleven years. A scandal erupted after reports emerged that Williams had exaggerated and perhaps even fabricated some of his statements about his experiences as a war correspondent in 2003. He claimed on several separate occasions - with a slightly different story each time - that he had been in a helicopter that took fire; members of the military reported that his claim was false and he'd actually been in a different aircraft.
The controversy surrounding Brian Williams and Nightly News was significant enough that Williams quickly took a leave of absence, which turned into a suspension-without-pay from NBC. Many were expecting that he'd be booted from all things NBC, so his move to MSNBC came as something of a surprise. After all, even if NBC continued to have faith in Williams' reports, he lost a lot of his credibility as a newsman by confessing that he didn't always report facts.
Still, Brian Williams has evidently been received well enough that MSNBC is giving him his own show. Given that the show is designed to provide presidential election coverage, however, it's possible that he'll be sent back to the minors of daytime work after the end of campaign season. Who knows? Maybe this first comeback will work as a sort of audition for MSNBC to judge whether or not he could work as a nighttime anchor once more.
MSNBC has not yet given a date for Brian Williams' new show's debut, although rumor has it that NBC News is considering Labor Day for the premiere date. He'll face some stiff cable competition for the 11 p.m. hour in the forms of CNN's Tonight and Comedy Central's The Daily Show. Be sure to check out our fall TV premiere schedule to see what else you'll be able to watch in the coming months.
Resident of One Chicago, Bachelor Nation, and Cleveland. Has opinions about crossovers, Star Wars, and superheroes. Will not time travel.
Your Daily Blend of Entertainment News
Thank you for signing up to CinemaBlend. You will receive a verification email shortly.
There was a problem. Please refresh the page and try again.