Ken Bone Will Be A Special Correspondent On Jimmy Kimmel Live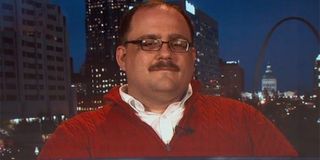 The 2016 presidential debates have been huge television events this fall as the November election looms closer. More than 66 million viewers tuned in for the second matchup between Hillary Clinton and Donald Trump in their race for the White House, so an awful lot of people were glued to their TVs when the world's most adorable man in a red sweater stood up to ask the candidates a question about their energy policies. Ken Bone became an immediate internet sensation. Now, he's been tapped to weigh in on the third presidential debate in a brand new way. He'll appear on Jimmy Kimmel Live as a special correspondent.
Ken Bone will make his debut as a special guest correspondent on Jimmy Kimmel Live on Wednesday, October 19 after the conclusion of the third and final presidential debate of 2016. Other guests set to appear on the night's show will be Wonder Woman actress Gal Gadot and Libertarian presidential candidate Gary Johnson. Gadot and Johnson will presumably interact with Jimmy Kimmel in the studio; Ken Bone will be patched in from Las Vegas, where the third debate is being held. We have no news on what he'll wear as special guest correspondent, but I'll put my money on the red sweater that made him famous
Jimmy Kimmel doesn't have to worry about whether or not Ken Bone will be able to keep up with his banter and bring the laughs as a guest correspondent. Bone appeared on Jimmy Kimmel Live on the day after the second debate to weigh in on his adventures of the day before. He managed to be both silly and sincere in his chat with Kimmel. Bone shared the story behind his choice of a red sweater, his conversation with Bill Clinton, and just what was up with his disposable camera at the debate. He didn't even falter when he was asked whether or not he was still undecided about who he would vote for. It was a pretty hot and personal topic, but Bone kept his cool.
If the third debate is even half as eventful as the first two, Ken Bone should have plenty to talk about from Las Vegas. I only hope Jimmy Kimmel has the time to ask for Bone's thoughts about the sexy Ken Bone costume that is now available just in time for Halloween. It may actually be the weirdest thing to come out of his sudden fame as a debate questioner.
It sounds like the media will be getting everything they can out of the Ken Bone sensation while he's still creating buzz. I won't be surprised if the next episode of SNL opens with Alec Baldwin as Donald Trump, Kate McKinnon as Hillary Clinton, and a Ken Bone lookalike in a debate sketch. Only time will tell.
Check out our fall TV premiere schedule to see what you can catch on the small screen now and in the near future. Tune in to ABC on weeknights at 11:35 p.m. ET for the latest laughs on Jimmy Kimmel Live.
Resident of One Chicago, Bachelor Nation, and Cleveland. Has opinions about crossovers, Star Wars, and superheroes. Will not time travel.
Your Daily Blend of Entertainment News
Thank you for signing up to CinemaBlend. You will receive a verification email shortly.
There was a problem. Please refresh the page and try again.