How Season 3 Of The Strain Just Ended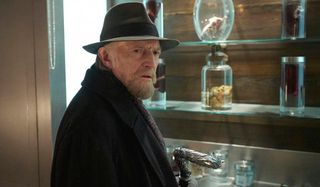 Warning: Spoilers for "The Fall" are in play. If you haven't watched the episode yet, bookmark this page and come back later once you're current.
Last week on The Strain, Eldritch Palmer looked to be making his turn to the light side, with the systematic betrayal of Eichorst and the acquisition of the second suitcase nuke smuggled into New York aboard the Aurora Cutlass. With one last play for the fate of our species in mind, Palmer was readying to meet with his former rival, turned teammate, Abraham Setrakian. Unfortunately, that meeting never took place, setting off a chain of events leading to the explosive finale of Season 3. We must issue one last warning at this point, as spoilers are very heavy throughout this story, and tonight's events are so shocking that they're best experienced fresh.
The Master finally revealed where he'd been hiding this whole season, as Palmer and his men were ambushed by two of the surviving Navy Seals turned Strigoi from earlier this season. Surprise surprise, one of the Seals was the temporary host of The Master, who did not vanquish his turncoat lackey, but rather rewarded him with the eternal life he'd always wanted. Eldritch Palmer is now The Master, and this ruse looked to have pushed the game between humanity and vampire into a stalemate, until two powerful reversals took place: Palmer was concealed in the lead lined coffin designed to trap The Master, and that second nuclear bomb was detonated.
After a whole season of strategic conquest, The Strain's central power struggle has made a gigantic shift. Despite humanity's best efforts, The Master has not only taken a new form, but he's also got a willing apprentice that looks to be on the path to greater, darker things. In one instant of violent hatred, Zack Goodweather doomed all of humanity to a prolonged existence of pain and strife with the flick of a switch. Whether you hated him or not, it's clear now that Zack is nothing more than a bitter little shit, and may his death be just as painful as the darkness our species is about to fall into.
While this is a beautiful way to play into people's pre-existing hatred of the character, it's also the end of a bitter custody battle, as the action to finally set the Goodweather child off was Eph's killing blow to Kelly, the mother of his child and estranged wife. While it didn't look obvious in the execution, it appears that Eph slit her throat, thus incapacitating her and allowing her to bleed out. Her death confirmed, Zack slipped into such a rage that he triggered the nuclear device hidden under the Statue of Liberty, thus consigning New York, and the world, into the night eternal. If you want to sum up the third season of The Strain in two words, they are the following: "We're fucked."
The bomb was powerful enough to blot out the sun, causing the second occultation Professor Setrakian read about in the Occido Lumen. Meaning that all of the munchers hiding under NewYork City are now allowed to run around the city at will, seeing as sunlight is going to become very scarce. It's not as devastating as the original story line from the books, in which a chain of nuclear reactors owned by Stoneheart were deliberately sabotaged to meltdown worldwide, but it's enough for the show's purposes. It was certainly enough to release Palmer from his prison, and turn the entire city into a buffet for the vampiric horde that has been lying in wait.
Read on to find out what we know about what could be coming up next!
From this point on, we've only got 10 episodes left in the life span of The Strain, unless the powers that be decide to extend this final season's episode count to make up for the fact that the originally proposed fifth season was scrapped. While the reduced episode order was intended to supercharge the storytelling, it has led to a slight disadvantage to the storytelling that the show has been known for. With those three extra "filler" episodes reinstated into the season, there could have been more time to flesh out some of the underdeveloped plot lines from this season, in particular the story between Gus and Angel. Yes, this season was full of shocking revelations and mass character death, but the end result feels just a little rushed when compared to the two seasons that came before.
I'm a little afraid what next season will bring, as a lot of pieces need to fall into place, and just as much resolution needs to be granted. What I'm not afraid of is being a fan of The Strain, as it feels like this show has constantly been overlooked in the name of other, more shambling efforts being offered on television. Even through this shortened season, I've tuned in with gleeful abandon, as the story has taken some exiting twists and turns that the novels never did. Some folks may still be drying their eyes over a particularly tragic game of baseball last week, but I'll be sitting in this corner here, worrying about how humanity will recover from a greater menace than barbed wire around a baseball bat.
Thank you all for joining us in this corner of Cinema Blend, and we hope that you'll be back with us next year for the fourth and final season of The Strain on FX. Until then, you owe it to yourself to watch that other amazing show Sunday night has to offer, Westworld.
Your Daily Blend of Entertainment News
Senior Movies Contributor
CinemaBlend's James Bond (expert). Also versed in Large Scale Aggressors, time travel, and Guillermo del Toro. He fights for The User.