Criminal Minds Has Already Found A Replacement For Hotch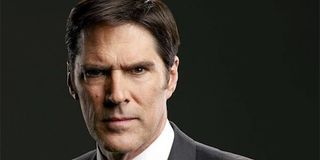 Spoilers if you haven't caught Wednesday's episode of Criminal Minds, yet. If you'd like to be surprised, do check out one of our other lovely articles.
Criminal Minds has been solving mysteries without Agent Hotchner for quite some time, now. The show formerly only briefly bothered to explain what really happened with Hotch---or rather Thomas Gibson, who played Hotch on the show--by noting he was off on "special assignment". That is, until last night's episode, when Criminal Minds addressed Hotch's absence and finally told us who would be taking over the BAU in his absence: none other than Emily Prentiss.
That's right, Prentiss was offered the job. Agent Rossi might have seemed like a shoe-in for a gig, but he's notoriously paperwork phobic and also getting closer to retirement age, plus he's basically in his dream position as is. Several months back, we would have guessed Derek Morgan would have been a good fit, since he's run the BAU before, but Shemar Moore actually left the series last season. Emily Prentiss has been back in the fold since the early part of Season 12, and with her competence and previous upper level skills at Interpol she has the ability to take on the role and that's the route that Criminal Minds ultimately opted to take.
Only at first, Prentiss wasn't sure if she wanted the gig. She sort-of had to be coerced by Spencer Reid and J.J. Jareau, who did say they would support her no matter what she decided. Ultimately, she decided to stay. (I'm guessing the pay was pretty good.)
Meanwhile, if you have been wondering what the heck actually happened with Hotch, Criminal Minds finally gave us an explanation for that, as well. During "Elliott's Pond," Rossi revealed that Agent Hotchner was not actually on special assignment. Instead, he had ultimately opted to enter the witness protection program after learning that Mr. Scratch was at one of his son Jack's soccer games. If there had been no controversy on the set of Criminal Minds, I'm sure the BAU would have been able to catch Mr. Scratch and move forward with their lives, but since the show needed a convenient way to write out Hotch and his kid, he ultimately decided to go into witness protection.
It's thin, considering all of the big bads Agent Hotchner and his team have capably taken down over the years, but we'll take it. We don't really have much of a choice. Thomas Gibson was fired from the long-running procedural after a reported altercation with a writer on set. He was written out of the series on the spot, and has since made some comments about the way things went down.
Criminal Minds has fallen a bit in the ratings without him, but not substantially. We'll let you know how the series continues trending as Season 12 goes on with Paget Brewster back in a big role. New episodes of Criminal Minds air on Wednesday nights at 9 p.m. ET, only on CBS. To find out when your favorites will be back at midseason, check out our winter calendar.
Your Daily Blend of Entertainment News
Reality TV fan with a pinch of Disney fairy dust thrown in. Theme park junkie. If you've created a rom-com I've probably watched it.