Why Doctor Who's Companions Should Always Be Female, According To Steven Moffat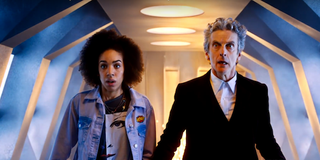 Responding to a question posed in Doctor Who Magazine (via DoctorWhoTV), Steven Moffat explained that Doctor Who appeals to both boys and girls, and while the show stars a man as the eponymous protagonist, no matter what the regeneration (for now), he believes that the story has been about the companions, who have primarily been women. To that end, he doesn't want to damage Doctor Who by not having that "voice and viewpoint" represented. He continued:
Historically speaking, the ratio of male to female companions has definitely been more weighted for the latter, though given how the main protagonist has always had a male form, Steven Moffat's views on providing a female-focused story to follow along with make sense. As for the men who have accompanied The Doctor over the years, Moffat considers most of them to be "friends-in-law," citing Arthur Darvill's Rory Williams as an example. While that opinion is subject to debate regarding the classic Doctor Who era, the modern era's male companions certainly haven't received quite as much narrative attention as the females they were with.
Doctor Who has been providing bonkers adventures across time and space for over 50 years (albeit interrupted on television for a while), and most of the time, the eponymous Time Lord hasn't been alone when traveling. He frequently recruits someone from Earth to travel with him in the TARDIS, and most of those companions have been women. There have been male companions sprinkled throughout both the classic and modern eras, but current Doctor Who showrunner Steven Moffat believes that the main companions should always be ladies because it's important to provide representation for both males and females on the series.
Of course, then that brings up the long-suggested idea of having The Doctor regenerate into a woman, thus allowing more leeway with using a male companion and providing representation on both sides. Since that's not in the cards for now, maybe the show should try spotlighting regular companion duos again, like Rory and Amy or Rose and Jack (not the Titanic couple). With Broadchurch's Chris Chibnall taking over as the Doctor Who showrunner in 2018, maybe he'll consider doing that.
The next Doctor Who Christmas special, "The Return of Doctor Mysterio," will air Christmas Day next month on BBC America, while Season 10 is expected to premiere in April 2017, and will feature the debut of the Twelfth Doctor's new companion, Bill (played by Pearl Mackie).
Your Daily Blend of Entertainment News
Connoisseur of Marvel, DC, Star Wars, John Wick, MonsterVerse and Doctor Who lore. He's aware he looks like Harry Potter and Clark Kent.