An Insane New Reality Series Will Allow Rape, Murder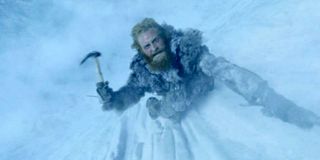 If you think you've seen everything that reality television has to offer, it now looks like you might be wrong about that. There's a new reality show that's abandoning the rules of, not just other reality shows, but polite society, and allowing rape and murder to actually be used by contestants as a part of the Russian show Game2: Winter. Reality TV might be about to get really serious.
The new show is being touted as an ultimate Siberian survival test, with 30 male and female contestants spending nine months in the wilderness in temperatures that get down to -40 degrees Celsius, and in an area that's populated with dangerous wild animals like bears and wolves. Game2: Winter will be shown 24/7 around the world from July 1 of 2017, through April 1 2018. And, according to the rules put forth by the game, it would seem that nothing is off limits for those vying to win the $1.6 million prize. Just take a look at what those who sign up to participate are agreeing to possibly be a part of:
Damn. Just when many of us thought that nothing new could be done in reality TV, Russia goes and pushes the genre to the very limit. Entrepreneur Yevgeny Pyatkovsky, who created and is putting up the money for Game2: Winter, gave an interview last month, according to Deadline, where he admitted that contestants must all sign a waiver which acknowledges that they could be raped or even killed during the shoot. And yet, the list of people who have applied to take on this insane challenge has already reached 60 people, including at least one American, by this writing.
Now, lest you think that this contest is going to play host to the worst people that the world currently has to offer, there are a couple of caveats. First of all, the show is, apparently, trying to make sure that as few homicidal maniacs as possible join in on this insane challenge by declaring that contestants need to be mentally sane in order to participate. Hopefully this means that some sort of testing will be done by actual mental health professionals to determine that status, because if there's just a "Are you sane?" question on the application, I think we all know how easy it would be for an absolute nutter to just write "Yes" and then end up on the show.
Secondly, let's not forget that Game2: Winter is taking place on land that is officially held by Russia. That means that the laws of Russian government apply to all who take place in the contest, and while the producers of the game might be cool with rape and murder for the sake of winning the contest, Russia itself probably wouldn't be. So, if you get caught on one of the show's 2,000 cameras raping or murdering someone, you could still be in some pretty serious trouble with the Russian government.
Well, I'd like to think that these two factors alone would be enough to keep any seriously dangerous people from signing up and getting cast on Game2: Winter, but it might not be. Just the fact that dozens of people have already applied to be a part of this lunacy says that people really will do anything to be on TV and/or get a shot at winning some big money. Until Game2: Winter debuts next summer, you can check out our midseason television premiere schedule to see what you can watch without the chance of seeing a real murder on live TV.
Bachelor Nation, Gilmore Girl; will Vulcan nerve pinch pretty much anyone if prompted with cheese...Yes, even Jamie Fraser.
Your Daily Blend of Entertainment News
Thank you for signing up to CinemaBlend. You will receive a verification email shortly.
There was a problem. Please refresh the page and try again.