The Top 10 Shows Of 2016, According To Laura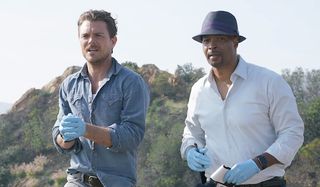 Television nowadays is filled with so many shows in so many genres on so many networks that it's impossible for any single person to keep up with all of them. There are just too many series and not enough time. That said, I watch an awful lot of them, and 2016 was a big year for the small screen. I laughed, I cried, and I desperately crossed my fingers in the hopes that some of my favorites would score renewals for another season. Now, as 2016 comes to an end, the time is right to look back at the best of the best of what this past year has had to offer. So, in the spirit of the season, here are my top 10 best shows of 2016!
For a look at some of our other favorites here at CinemaBlend, check out Jessica's and Nick's top picks for 2016.
10. BoJack Horseman, Netflix
Netflix's BoJack Horseman is easily one of the most bizarre shows on television. The ensemble of anthropomorphic animals mingling with humans and dishing out caustic commentary on showbiz in Los Angeles doesn't pull any punches. It's surprisingly serialized for an animated sitcom, and it's one of my favorite shows to binge-watch. The cast of voice actors is stellar, with Will Arnett as BoJack, Aaron Paul as Todd, Alison Brie as Diane, Amy Sedaris as Princess Carolyn, and (my personal favorite) Paul F. Tompkins as Mr. Peanutbutter. I actually think that Season 3 was the best yet, largely thanks to the mostly dialogue-free episode "Fish Out of Water" and Sarah Lynn's tragic swan song that wasn't resolved at the last minute with a happily-ever-after. It was blunt, hilarious, and as oddball as ever. I'm definitely glad for the early Season 4 renewal.
9. Atlanta, FX
I actually didn't start watching Atlanta until some fellow TV fans here at CinemaBlend recommended it, and I'm definitely glad that they did. I only somewhat knew Donald Glover through his comedy chops on Community, and I had no idea if he could handle executive producing, writing, and starring in a series that he created. He blew me away from the pilot episode, and while the rest of the first season wasn't without its flaws, the combination of comedy and commentary worked without getting overly slapstick or preachy. The early back-and-forth between Earn and Darius alone was enough to have me binge-watching, and I'm looking forward to Season 2 as well as any other projects in store for Donald Glover. FX has built a strong comedy lineup in recent years, and I'd argue that Atlanta is the best of the best.
8. Brooklyn Nine-Nine, Fox
I'm not always the biggest fan of broadcast network comedies, due to the fact that they often lack the freedom with how far they can go to bring the funny in comparison to cable or streaming series. Brooklyn Nine-Nine is an exception. The show isn't afraid to shake up the status quo and take steps that other series frequently delay. Brooklyn Nine-Nine answered the will-they-won't-they question quickly, and not without addressing the very real obstacles facing Jake and Amy. Boyle adopted a kid. Terry's twins are growing up. Rosa is opening up. Captain Holt is somehow becoming more hilarious. The early Season 4 departure from New York that followed Jake and Holt to Florida in witness protection worked against all odds. Honestly, I could watch Andre Braugher and Andy Samberg playing opposite each other week in and week out without getting tired of it.
7. The X-Files, Fox
I've been a huge fan of The X-Files for more years than I care to admit, and the Fox revival was one of my most highly-anticipated TV events of 2016. David Duchovny and Gillian Anderson returned to their iconic roles for the first time on the small screen in nearly 14 years, and they managed to recapture the chemistry that kept the show going for nine seasons during its original run. Of course, the six installments of the revival weren't all winners. In true X-Files fashion, the episodes ranged from darkly hilarious to deeply dramatic to...well, pretty unnecessarily complicated. Still, the essentials were back. Mulder came up with his crazy theories, Scully debunked most of them with her strict rationalism and science, and all was more or less right with the world. Now, we just need a resolution for that killer cliffhanger. Season 11, anyone?
6. Lethal Weapon, Fox
I didn't have very high hopes for Lethal Weapon. Fox was never going to be able to give a series the same budget, scale, and freedom to get truly over-the-top in the ways that made the film franchise so entertaining. The roles of Riggs and Murtaugh are so iconic to Mel Gibson and Danny Glover that I couldn't imagine any TV actors living up to their legacy. It was a pretty fantastic surprise that I was entirely wrong about Lethal Weapon. Clayne Crawford and Damon Wayans have made the roles their own, and the pilot was so filled with heart that I'll admit to tearing up a couple of times. The show has nailed the balance between humor, explosions, and family to create a narrative that works week in and week out, and my fingers are crossed for a renewal.
5. Supergirl, The CW
I watch all the superhero series on The CW, and Supergirl is by far the best as far as I'm concerned. The plot hasn't been bogged down by time travel, the stories don't break the show's own rules, and no illegitimate love children have emerged from the woodwork to screw things up. In fact, Supergirl has actually gotten better since its move from CBS to The CW. Melissa Benoist is a delight as Kara, but the MVP of Season 2 has to be Chyler Leigh as she portrays Alex Danvers' struggles with her sexuality. New characters like Tyler Hoechlin's Superman, Lynda Carter's Olivia Marsdin, and Katie McGrath's Lena Luthor have further enriched the series. Earth-38 is officially one of the most fun places to be on the small screen, and I'm looking forward to the second half of Season 2.
4. Pitch, Fox
My love of baseball meant that I was going to give Pitch a try no matter what, and I was thrilled to discover that it was a show worth watching in the long run. Despite the fact that MLB is nowhere near bringing a female baseball player up from the minors, the premise is surprisingly realistic. Ginny isn't portrayed as baseball player who can physically keep up with her male counterparts and their power pitches. She relies on trick pitches to overcome the disadvantages of her smaller size as a female athlete. Pitch isn't preachy about feminism; instead, it focuses on Ginny's difficulties with finding acceptance among her peers in Major League Baseball and adjusting to her unexpected (and unwanted) fame. Season 1 has already come to an end, and my fingers are crossed for news of a Season 2.
3. Last Week Tonight, HBO
The Daily Show found a comedic great with John Oliver as a correspondent and then as temporary host for a couple of months in 2013. It was a shame when Oliver chose to leave The Daily Show, but he's really come into his own as host of Last Week Tonight on HBO. The late-night talk show is basically just John Oliver talking to the camera about a current event for 30 minutes, and it manages to be both hysterical and informative. Oliver isn't shy about admitting his bias about certain issues. Still, he uses irrefutable facts and evidence to state his case, and viewers don't have to agree with him to get something out of episodes. 2016 featured installments about everything from the Ryan Lochte fiasco to the presidential election to the Brexit shocker, and Oliver seems to just get better with time.
2. Agents Of S.H.I.E.L.D., ABC
Agents of S.H.I.E.L.D. has always been one of those shows that I've adored... but also knew that it wasn't all that good, and the second half of Season 3 last spring didn't exactly change my mind. That said, Season 4 has been pretty phenomenal. Definitively getting rid of Ward has finally opened the show up for some new villains, the revamping of S.H.I.E.L.D. itself has refreshed the premise, and Ghost Rider has been an endlessly entertaining addition to the ensemble. Furthermore, the later time slot has allowed Agents of S.H.I.E.L.D. to get darker. The series now has the leeway to raise the stakes by showing the uglier sides of some of its conflicts. The recent AIDA reveal was relatively predictable, but S.H.I.E.L.D. has been so solid in Season 4 that the unsurprising "twist" still worked. Hopefully ABC doesn't give S.H.I.E.L.D. the axe any time soon.
1. Game Of Thrones, HBO
I'll be honest: Game of Thrones mostly gets the #1 spot on my list of the best shows of 2016 because it wildly exceeded my expectations. I've been a Game of Thrones fan from the very beginning, but I was getting tired of the same old power struggles and violence. The long separations of main players didn't work for me, and the series became much less must-see-TV for me in Season 5. Season 6 fixed a lot of my problems with the series by actually doing something with Bran, reuniting a couple of the Starks, bringing Arya back to Westeros, Dany finally setting sail, and Cersei getting rid of a lot of the least interesting characters in King's Landing with her wildfire destruction of the Sept of Baelor. I'm more psyched about Season 7 than I have been for a season in a while.
Big Shows I Still Need To Watch: Stranger Things, Westworld, The People v. O.J. Simpson: American Crime Story, The Crown
Shows I Need To Catch Up On: Luke Cage, Designated Survivor, Poldark
Stay tuned to CinemaBlend for the latest in TV news, and be sure to check out our midseason TV premiere schedule to see what shows will hit the airwaves in 2017.
Resident of One Chicago, Bachelor Nation, and Cleveland. Has opinions about crossovers, Star Wars, and superheroes. Will not time travel.
Your Daily Blend of Entertainment News
Thank you for signing up to CinemaBlend. You will receive a verification email shortly.
There was a problem. Please refresh the page and try again.