The Walking Dead And Other Great TV Marathons Airing On New Year's Eve Weekend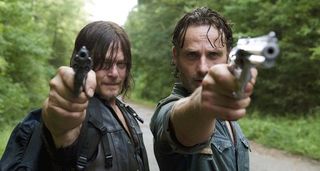 The New Year is upon us and what better way is there to celebrate than with some marathons of your favorites shows? Networks are running special marathons all weekend long and there isn't any shortage of options to choose from. To help you formulate your weekend couch schedule, we've taken the liberty of collecting some of the best marathons for you to check out. There's a wide variety of shows to help please just about anyone, so scroll down for all the dates and times of the hottest marathons.
The Walking Dead, AMC
AMC is no stranger to hosting some epic Walking Dead marathons and New Years weekend will be no different. The marathon starts on Saturday, Dec. 31, at 1 p.m. EST and finishes Jan. 1, at 11:45 p.m. Opening with Season 5 Episode 7, the marathon will run all the way through to the latest episode of Season 7, "Sing me a Song."
The Simpsons, FXX
As if playing every Simpsons ever wasn't enough, FXX is making sure you don't end the holiday without America's favorite family. Beginning on Saturday, Dec. 31 at 6:00 p.m. EST, the marathon runs until Monday, Jan. 2 at 12:00 a.m.
The Three Stooges, IFC
Now's your chance to watch some TV classics with The Three Stooges marathon over on IFC. The network will be playing celebrated shorts from the series from Saturday, Dec. 31 at 6:03 p.m EST all the way to Sunday, Jan. 1 at 2:45 p.m.
The Twilight Zone, Syfy
Things are going to get weird over on Syfy with a marathon of The Twilight Zone. Beginning Dec. 31 at 6:00 a.m. EST to Tuesday, Jan. 3 at 7 a.m., you'll be able to watch at least four seasons worth of the seminal science fiction show.
Sex and the City, E!
How about catching up with Carrie and the gang in the big city? E! is running a Sex and the City marathon from Friday, Dec. 30 at 8:00 a.m. EST to Saturday, Dec. 31 at 1:00 a.m.
Futurama, Comedy Central
Futurama began by celebrating the New Year, so what better show to watch in 2017? We've got a while until the year 3000, but Comedy Central's running a marathon on Jan. 1 from 12:15 p.m to 6:15 p.m. EST.
The Real Housewives Franchise, Bravo
Nothing passes the time better than a little reality television, and Bravo is holding a huge marathon. Not limited to just one of The Real Housewives, the network is going through several franchises. The details are as follows: The Real Housewives of Atlanta: The Social Edition, Friday, December 30 at 6:30 a.m. to 5:30 p.m.; The Real Housewives of New York City, Saturday, December 31 at 7:00 a.m. to 8:00 p.m.; The Real Housewives of Atlanta, Sunday, January 1 at 12:00 p.m. to 9:00 p.m.
Star Trek, BBC America
BBC America will actually be marathoning THREE Star Trek series for those of you who are picky about your Trek. Star Trek: The Original Series is airing today, Friday Dec. 30 from 1 p.m. to 11:30 p.m. EST. Then Star Trek: Voyager runs on Jan. 1 at 5:00 a.m to 11 p.m. followed by Star Trek: The Next Generation on Jan. 2 from 1 p.m. to 11 p.m.
Matt has lived in New Jersey his entire life, but commutes every day to New York City. He graduated from Rowan University and loves Marvel, Nintendo, and going on long hikes and then greatly wishing he was back indoors. Matt has been covering the entertainment industry for over two years and will fight to his dying breath that Hulk and Black Widow make a good couple.
Your Daily Blend of Entertainment News
Thank you for signing up to CinemaBlend. You will receive a verification email shortly.
There was a problem. Please refresh the page and try again.