Watch Shaq And Other Greats Celebrate The NBA Finals By Reading Mean Tweets On Jimmy Kimmel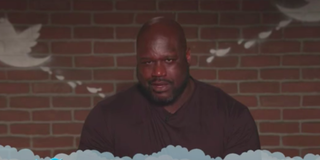 Jimmy Kimmel is the king of late night comedy on ABC as host of Jimmy Kimmel Live, and viewers will be able to see even more of him during the 2017 NBA finals. Kimmel will host an hour of coverage each night before matchups between the Cleveland Cavaliers and the Golden State Warriors. He kicked off this year's Jimmy Kimmel: Game Night celebrations with a special NBA version of the Mean Tweets segment, and NBA greats like Shaquille O'Neal had to face what some folks on social media think of them. Check out the NBA Edition of Mean Tweets!
I think we can probably all relate to Shaq's reaction to his mean tweet: grinning, laughing, and then glaring menacingly. Of course, Shaq glaring menacingly is probably a lot scarier than most of us could possibly manage. He's not exactly small or dainty. Hopefully for Mike Conley's sake, he won't be known as Pineapple Head from now on. It's kind of hard to un-see his hair's resemblance to pineapple leaves. Good for him for laughing it off.
The pineapple comment wasn't exactly the harshest one leveled at one of the NBA greats in the Mean Tweets video. Caron Butler had to face one social media user's accusation that he fits the dictionary definition of "douche!" For his part, Walt Frazier gets the top prize for snazziest dresser in a Mean Tweets segment. I'm not even sure what tweet he read; I was too captivated by the print on his jacket. Kudos to Majic Johnson for not batting an eye at the comment he faced. Sure, the tweet implied that he's not especially intelligent, but it also called attention to the fact that he's a general manager of a major NBA team. I'd say Johnson comes out on top in that particular feud.
Of all the NBA greats reading mean tweets, my favorite has to be DeAndre Jordan and his reaction to the accusation that he misses his free throws because his eyes are too close together. The laughter followed by "These people are mean!" really seems to be the way to deal with reading mean tweets on camera. Unfortunately, none of the NBA greats on hand to read tweets were current Cavaliers or Warriors, so any fans who were hoping to see LeBron James or Steph Curry are out of luck. Their teams will probably be too busy with trash talk to bother with mean tweets for the foreseeable future.
You can catch the NBA finals between the Cleveland Cavaliers and the Golden State Warriors on ABC. Stay tuned to CinemaBlend for the latest in TV news, and don't forget to check out our summer TV premiere schedule to discover all your non-basketball viewing options now and in the coming weeks. Be sure to drop by our rundowns for cable/streaming and broadcast TV renewals and cancellations as well. If streaming is more your style, our Netflix premiere schedule will help you out.
Resident of One Chicago, Bachelor Nation, and Cleveland. Has opinions about crossovers, Star Wars, and superheroes. Will not time travel.