Is Star Trek: Discovery Planning To Kill Off Michael Burnham?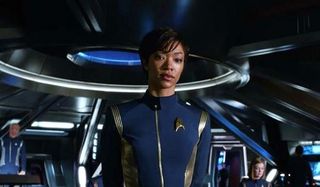 Warning! This article contains spoilers for the Star Trek: Discovery episode "The War Without, The War Within." Read at your own risk!
There was much to talk about following the conclusion of Star Trek: Discovery's Season 1 penultimate episode, but the one thing that hasn't gotten much attention is the cryptic tease that Star Trek: Discovery may be planning to kill off Michael Burnham. Although such a move might seem highly illogical given that Sonequa Martin-Green is the shining star of the series, there's reason to suspect that her journey might be coming to an end. In "The War Without, The War Within," Michael's adopted father Sarek was the first to tease what the show might have planned for its season finale as he bid farewell to her, saying this:
Wow, Sarek, don't get too emotional there! You're only speaking to the girl you've raised since she was a child! Sarek's farewell to Michael was odd considering that most of those watching Star Trek: Discovery know that Sarek will not die until Star Trek: The Next Generation. That means the only person at risk in that exchange is Michael, who is about to embark on a suicide mission to the Klingon homeworld Qo'nos under the guidance of the Terran version of Georgiou. Granted, Sarek's farewell could've just been about as far as a hardline Vulcan can go towards saying "I love you, be safe," but further potential foreshadowing of Michael Burnham's death really added some weight to his words.
Seemingly just as perturbed by the farewell as Star Trek: Discovery fans should be, Michael went to Tilly for some reassurance. Michael wasted no time in saying what was on her mind, and put all cards out on the table as she questioned her friend about their futures:
Tilly was absolutely no help in dispelling Michael's fear. Taking into account the current state of the Federation, it's not that surprising everyone on board is riding a wave of doom and gloom. It felt like another nail in Michael's coffin, and with this show's penchant for killing off seemingly important people every chance it gets, would it be that surprising if Star Trek: Discovery killed off its lead character?
From a behind-the-scenes standpoint, it would be rather surprising. CBS balked at Bryan Fuller's initial idea of making Star Trek: Discovery an anthology series, and one would imagine the network hasn't changed its stance on the CBS All Access show's format following his departure. Star Trek: Discovery Season 1 has revolved around Michael's character so heavily that continuing the current plotline without Sonequa Martin-Green could be very ill-advised. In fact, proceeding without her could drastically affect the show's quality. Basically, if Star Trek: Discovery is planning to kill off Michael Burnham, it may well be making a big mistake.
On the flip side, here are the facts: Michael Burnham is the adopted daughter of Sarek and sister of Spock, yet neither has ever mentioned her in any other Star Trek series. The Discovery is en route to launch an attack on Qo'nos similar to the one led by Terran empress Georgiou in the mirror universe. Georgiou's attack in the mirror universe reduced the Klingon homeworld to a smoldering pile of ash, yet Qo'nos is very much intact as far forward as Star Trek: Deep Space Nine. Given all that, are we really going to sit here and believe there's no reason at all to worry about Michael during Star Trek: Discovery's season finale?
Star Trek: Discovery (opens in new tab)'s Season 1 finale will be up on CBS All Access Sunday, February 11 at 8:30 p.m. ET. For a list of some shows to watch following the finale, visit our midseason premiere guide.
Mick likes good television, but also reality television. He grew up on Star Wars, DC, Marvel, and pro wrestling and loves to discuss and dissect most of it. He's been writing online for over a decade and never dreamed he'd be in the position he is today.
Your Daily Blend of Entertainment News
Thank you for signing up to CinemaBlend. You will receive a verification email shortly.
There was a problem. Please refresh the page and try again.