Arrow Just Delivered Another Big Death, And Star City Could Be Totally Screwed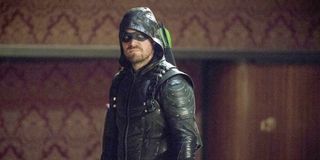 Spoilers ahead for Episode 13 of Arrow Season 6, called "The Devil's Greatest Trick."
Season 6 of Arrow has been a bloody mess for Team Arrow. Evil mastermind Cayden James targeted Oliver due to his mistaken belief that Oliver had killed his son, and he gathered a whole team of bad guys. Team Arrow was split in two, their mole within Cayden's crew was murdered, and Dinah was on a quest for revenge. In the previous episode, Original Team Arrow figured out how Oliver had been framed for Cayden's son's murder. Well, the good news in "The Devil's Greatest Trick" is that Team Arrow managed to convince Cayden he was wrong. The bad news is it turns out that Cayden James isn't really the supervillain of Season 6. The real big bad guy is none other than Ricardo Diaz, who ended the episode by executing Cayden James, taking over, and pretty much screwing over Star City. R.I.P. Cayden James.
Arrow spent almost the entire episode playing up Cayden James as the man to stop, even after it was revealed that James had been set up to target Oliver by a traitor within his own ranks. After all, James was the guy with the giant bomb, and he had to be stopped. Oliver did manage to take him down, although not before Black Siren, Anatoly, and Ricardo Diaz managed to escape Original Team Arrow and Team Arrow-less (a.k.a., Dinah, Rene, and Curtis). Cayden was surprisingly docile once he was taken into custody, handing over information that might lead to the locations of his former allies and the bank account number for all the funds he took from Star City. His only request was to be allowed to visit his son's grave, which Oliver agreed to arrange.
The twist came when Ricardo Diaz entered Cayden James' room and confessed the terrible truth: he'd had a plan of his own for the entire time that he was pretending to play second fiddle on the villain team. Diaz took advantage of James' arrogance and single-minded obsession with taking out the Green Arrow, using James to put Star City on the verge of falling apart and then turning on him. According to Diaz, why destroy a city when you can take it over?
Star City was basically a wreck in the aftermath of all Cayden James' assaults on the city. The city's technology was damaged and untrustworthy, the people were terrified after being trapped in Star City under the constant threat of being blown to smithereens via bomb, and a prominent member of the police force died. All Ricardo Diaz had to do was kill Cayden James, and Star City was basically his for the taking. Already by the end of "The Devil's Greatest Trick," Diaz was able to walk right into police headquarters in broad daylight because he'd paid off the new police captain as well as key members of the local government.
There aren't many people who may be able to stop him. The police force has obviously been compromised, and Quentin went rogue and rescued a wounded Black Siren to try and rehabilitate her into Laurel. Under normal circumstances, Original Team Arrow could probably hold their own against Diaz all by their lonesome, given that they managed to hold off similar (although smaller-time) criminals back in the early days of Arrow.
Unfortunately, the promo for the next episode reveals that Original Team Arrow and Team Arrow-less will be physically fighting each other, which... is not what should happen on the show with the most experienced superhero in the Arrow-verse. Oddly enough, Anatoly could turn out to be an ally in taking down Diaz. While there's obviously a lot of bad blood between him and Oliver, he has a good reason to want to go after Diaz. Perhaps Oliver and Anatoly could team up long enough to strike a blow against Diaz.
In the meantime, Ricardo Diaz has the means, the motivation, and the madness to strengthen his grip on Star City. We can only hope that the good guys stop fighting with each other before Star City is totally and irreversibly screwed.
Arrow airs on Thursdays at 9 p.m. ET on The CW. If you're still in the market for new shows now and in the coming weeks, be sure to swing by our midseason TV premiere guide.
Resident of One Chicago, Bachelor Nation, and Cleveland. Has opinions about crossovers, Star Wars, and superheroes. Will not time travel.
Your Daily Blend of Entertainment News
Thank you for signing up to CinemaBlend. You will receive a verification email shortly.
There was a problem. Please refresh the page and try again.