3 Ways Doctor Who's "Kerblam!" Referenced 4 Previous Doctors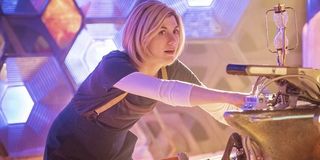 Warning! The following contains spoilers for the Doctor Who Season 11 episode "Kerblam!" Read at your own discretion.
Doctor Who Season 11 hasn't exuded a ton of expected familiarity in its first leg of episodes, but the second half could be a different story. The episode "Kerblam!" just managed to reference four different Doctors' plights across three moments, which may mean some classic elements are slowly but surely working their way back into the franchise. Here are the incidents in question, as well as the Doctors that were referenced.
The Fez - The Eleventh Doctor
Doctor Who's most obvious nod to yesteryear was in the package the Doctor received from Kerblam! industries at the start of the episode. The Doctor forgot she'd ordered anything, and indicated it may have been because she made the order a long time ago. Her instincts appeared to be correct, as the package contained a brand new Fez, which was a trademark of Matt Smith's Eleventh Doctor.
This is the first mention of Kerblam! within the Doctor Who franchise, so there was no past episode where Matt Smith's Doctor popped online and ordered a fez. The nod was appreciated all the same, and it was quite marvelous when Jodie Whittaker's Doctor popped the hat on her head and asked if it still suited her. Let's now hope Matt Smith saw the episode and contacts Chris Chibnall to be in a future episode that'll bring more than just his "cool" hat into the picture.
Agatha Christie - The Tenth Doctor
Season 11 viewers should know by now that Jodie Whittaker's Doctor is a celebrity name-dropper. When the mention of wasps made her think of Agatha Christie, though, Doctor Who fans' reference radars should've gone berserk. The Doctor had a full-on adventure with the mystery novelist that took place during David Tennant's run as the Tenth Doctor. Specifically, it was for the episode titled "The Unicorn and the Wasp."
In the memorable Doctor Who installment, The Doctor and Donna teamed up with Agatha Christie to defeat an extraterrestrial wasp from the Silfrax Galaxy. They eventually defeated the creature, but the event gave Christie amnesia. The Doctor and Donna drop her off at a hotel and go on their way. The acknowledgment of the episode in "Kerblam!' was a great easter egg, and perhaps also a reminder of how odd and great David Tennant's run as the Doctor truly was.
Venusian Aikido - The Third And Twelfth Doctors
The Doctor has used Venusian Aikido for the second time in Season 11, ranking her with two other incarnations of the Doctor who used the defensive techniques frequently. The fighting style was first revealed by Jon Pertwee's Third Doctor in the original run of Doctor Who, and he used it quite often throughout his five seasons. While Venusian Akido has been used by post-Pertwee Doctors in books and audio plays, its next television appearance didn't happen until Number Twelve.
Peter Capaldi's Doctor also used Venusian Aikido a couple of times during his run, so Jodie Whittaker's Doctor now has that connection with her immediate predecessor. Both times she's used it, some type of gun was involved, so perhaps Doctor Who audiences should expect Thirteen to utilize those skills any time a weapon like that is drawn. Let's just hope she's still practicing precaution, since an extended pressure point hold can result in permanent paralysis to the recipient!
Doctor Who is on BBC America Sundays at 8:00 p.m. ET. For a look at what other programming is headed to television over the next few months, visit our fall and midseason premiere guides.
Your Daily Blend of Entertainment News
Mick likes good television, but also reality television. He grew up on Star Wars, DC, Marvel, and pro wrestling and loves to discuss and dissect most of it. He's been writing online for over a decade and never dreamed he'd be in the position he is today.