The Predator Will Take On Santa Claus For Crazy New TV Special, Watch The Trailer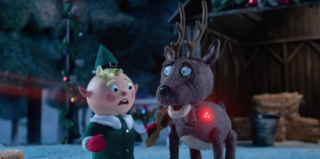 It's that time of year again when shows large and small produce festive episodes to ring in the holiday season, and 2018 will feature one that is entirely unexpected but could be incredibly entertaining. The Predator is getting a holiday special, and it will look quite different from the Predator films. Why? Well, the TV special will be stop-motion. In case that sounds too wild to be true, just check out the trailer:
The Predator holiday special won't be set in a jungle or an alien planet or any other place franchise fans might expect. No, this is going to take viewers all the way up to the North Pole, where Predators have set their sights on a new kind of quarry: Santa's little helpers. Sprinkles the elf and Blitzen the reindeer are seemingly having a jolly old time in the North Pole when Sprinkles notices a telltale red light shining on Blitzen.
The reindeer apparently knew that this red light was not coming from Rudolph and immediately pushed Sprinkles out of the way and pulled a machine gun, as one does when facing a laser pointer. Unfortunately for Blitzen and Sprinkles, Blitzen's gigantic gun was not enough to stop the Predators, and he was blown into reindeer smithereens all over his little elf pal.
Sprinkles survived the clip, but even if he makes it to the end of the special without being killed as well, he's probably going to need some therapy. Does the health insurance plan from Santa cover mental health? The description of the special names that Santa and his reindeer will be Predator's formidable foes, so the big man himself won't necessarily be safe, even if his reindeer do sacrifice themselves to save him. And what of the elves? What of the elves?
Before you get your hopes up that this special is going to be a full hour or even half hour long, you should note that the trailer refers to it as a "holiday short," and it will air during an episode of BoJack Horseman that airs on December 19 at 10:30 p.m. ET on Comedy Central. Obviously it's too soon to say much about the content of the short, but based on the footage so far, I'd say that it seems like a good fit to air during an episode of BoJack.
The show -- which was once only available on Netflix -- is full of talking animals, although there haven't been any machine gun incidents with Predators... yet. I wouldn't put much past BoJack. We'll have to wait and see how the two work together. If this clip has given you a craving for some Predator action, you can find the latest Predator movie available now on Digital and available on Blu-ray and DVD starting December 18.
For some viewing options on the small screen in the not-too-distant future, check out our midseason TV premiere schedule.
Resident of One Chicago, Bachelor Nation, and Cleveland. Has opinions about crossovers, Star Wars, and superheroes. Will not time travel.
Your Daily Blend of Entertainment News
Thank you for signing up to CinemaBlend. You will receive a verification email shortly.
There was a problem. Please refresh the page and try again.