Predator 5 Story Details Have Possibly Been Revealed, And They Sound Badass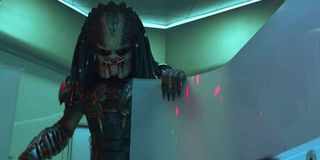 If you are a fan of action movies, science fiction or both, there's a good chance that you recognize Predator. The 1987 film starring Arnold Schwarzenegger is one of the most iconic movies of the '80s and spawned a massive franchise. Back in November, it was announced that the untitled Predator 5 project was moving forward, with Dan Trachtenberg of 10 Cloverfield Lane fame attached to direct. Now a possible plot synopsis for the film has been revealed, and it sound badass.
In a recent report on the fifth entry into the series (if you aren't counting the Alien vs. Predator spinoffs), Predator 5 is allegedly taking viewers back in time to a pre-European Comanche tribe. The full synopsis, which was first reported by AvP Galaxy, will supposedly follow Kee, a Comanche woman who goes outside of the established gender norms to fight for her tribe, presumably against a Predator. Through her fight, Kee will attempt to prove that she is a capable leader of the tribe, despite her gender.
Now this synopsis hasn't been verified, so take it with as big of a grain of salt as possible. But if it ends up being true, it will be the one of the few Predator films to feature a female lead. While there have been some seriously badass women in the franchise, they usually co-star alongside a male lead (Danny Glover and María Conchita Alonso, Adrien Brody and Alice Braga, etc). In the alleged plot, it sounds like Kee will be taking on a more central role than past female characters in the franchise. While the Alien vs. Predator films did feature female leads, those crossovers exist independently of the main Predator franchise.
AvP Galaxy also reported that director Dan Trachtenberg will begin shooting the film, which is also known as Skulls, in a few months. Trachtenberg fans may recognize his work on Black Mirror and Amazon's The Boys. The upcoming untitled Predator project will be his second full-length feature after his critically acclaimed debut with 10 Cloverfield Lane.
Even though this synopsis remains unconfirmed, I can't help but be a little hyped up. Dan Trachtenberg has already proven himself on both the TV and film front, in my opinion. His Black Mirror episode, "Playtest," is one of my favorites of the series. I think he will be a perfect fit for the Predator franchise, which desperately needs some new blood after Shane Black's 2018 less-than-impressive contribution, The Predator.
Dan Trachtenberg was originally attached to direct Tom Holland's upcoming Uncharted film, but eventually became one of the many directors to back out of the video game adaptation. While there was no official statement regarding the reason behind Trachtenberg's departure, he has kept busy with involvement in various projects, including directing the first episode of Amazon's hit series The Boys.
There's no confirmed release date for the untitled Predator 5, but fans of the series can currently watch the iconic action film that started it all on Starz. As for the rest of this year's upcoming movie slate, be sure to check out CinemaBlend's 2021 release schedule for the latest on everything heading to the big (and small) screens near you.
Your Daily Blend of Entertainment News
Into tracksuits by Paulie Walnuts, the Criterion Channel and Robert Eggers.