Ranking Every Mainstream Sequel Of 2018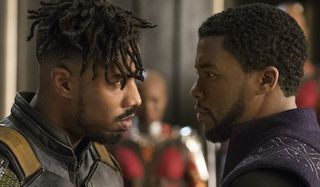 SPOILER WARNING: The following feature contains spoilers for some of the movies discussed. If you haven't seen everything on the list, read at your own risk!
In late November, I made a discovery. In my quest to try and see as many new releases as I possibly could throughout the year - something I see as a professional responsibility - I noticed that there was one particular type of film of which I watched quite a lot: sequels. With some exception, to that point in the year I had seen nearly every widely released follow-up to come out in 2018, and I decided to make it a mission to complete the list.
Now it's New Year's Eve, and not only am I declaring mission accomplished, but I am celebrating with this feature. Below I have assembled a list of every prequel, part two, part three, and beyond that was shown in 2,000-plus domestic theaters this year, and I have ranked them in order of quality - along with my own brief thoughts. Scope out the list below, and see if you can guess the Top 5 before getting there!
37. Fifty Shades Freed
Talk about dying with a whimper. The Fifty Shades movies were critically assaulted from the start (with very good reason), and the sequels did absolutely nothing to benefit the legacy. James Foley's Fifty Shades Freed sees not only the tepid/subtly hostile/abusive relationship between Anastasia (Dakota Johnson) and Christian (Jamie Dornan) continue with a wedding, but is jammed full of plot courtesy of a conveniently psychopathic ex-boss (Eric Johnson). This capper helps fulfill this series' ultimate destiny to be only rediscovered in the future as a trilogy box set found in a bargain bin.
36. The Strangers: Prey At Night
This is a sequel made thanks to the fact that its predecessor spent a decade building a modest cult audience, but Johannes Roberts' The Strangers: Prey At Night is a movie that will only really appeal to those who have a true affinity for the original's complete lack of any kind of story. The follow-up is basically identical to The Strangers, with the same killers simply going after another random family that happens to be home, and it too completely lacks any kind of compelling twists or interesting narrative developments. At the very least there's no promise of a Strangers 3.
35. The Cloverfield Paradox
Boy did the Cloverfield franchise shit the bed here. Following 10 Cloverfield Lane, it seemed like the brand had hit on an ingenious idea: develop cool and original sci-fi features anthology-style that can be marketed as part of a known property. Julius Onah's The Cloverfield Paradox ruins this by both failing to take proper advantage of an awesome concept (traveling between alternate universe), and needlessly using the story to try and explain the events of the original Cloverfield. What once had so much promise now appears to be basically dead in one fell swoop -- and it certainly wasn't helped by Paramount dumping it to Netflix and hyping it as a post-Super Bowl release.
34. The Predator
The Predator franchise is not exactly one with a glowing reputation when it comes to sequels, but all the pieces seemed right in the making of The Predator. An awesome writer/director (Shane Black), and a fantastic ensemble cast (Boyd Holbrook, Keegan-Michael Key, Sterling K. Brown, Olivia Wilde, and more) should have resulted in some R-rated awesomeness, but this was a sincere disappointment. In all the wrong ways it feels like an action movie trapped in a different era, and is only occasionally benefited from Black's well-established and razor sharp wit.
33. Overboard
Rob Greenberg's Overboard sneaks its way on to this list given that the movie references the events of 1987's Overboard as canon -- all that's needed to qualify as a sequel -- but it doesn't wind up with amazing placement. While it's still not able to shake the "Gaslighing Comedy" brand, it makes good use of the gender swap, and gets enjoying able performances out of leads Anna Faris and Eugenio Derbez. Unfortunately, it's also still quite lame, and has decades-old sensibilities that just don't really click anymore.
32. Insidious: The Last Key
It's a shame that James Wan has never completed a trilogy, because the Insidious features got off to a great start with the first two. Insidious: Chapter 3 sadly bucked the trend, working clichés instead of trying to do something new, and unfortunately Adam Robitel's Insidious: The Last Key is more in line with its immediate predecessor than Wan's contributions. There are some good scares, and even some solid creature design, but it's also a letdown as a franchise finale.
31. Mamma Mia: Here We Go Again!
Ol Parker's Mamma Mia! Here We Go Again! is a movie made to play to a specific audience: namely the audience that really loved the first Mamma Mia. It takes a real appreciation of Abba to sit through this material, and keeping in mind that this is an objective list, I have never been one to have those feelings. It isn't all bad, as there is a collection of very charismatic and fun movie stars featured partying in the Greek islands, but for someone who isn't into the music it's a chore to sit through the endless musical sequences.
30. The Girl In The Spider's Web: A New Dragon Tattoo Story
Sony went into overdrive in 2018 trying to utilize its brands (with a special emphasis on Spider-Man), and we'll be talking about their movie's throughout this list, but arguably Fede Alvarez's The Girl In The Spider's Web: A New Dragon Tattoo Story is the biggest disappointment. Claire Foy does a competent job as the edgy hacker Lisbeth Salander, but the material is airport bookstore quality. Alvarez, who has both Evil Dead and Don't Breathe on his resume, can do a lot better than this.
29. Sherlock Gnomes
In spite of all its kitsch, Gnomeo & Juliet was a surprisingly cute film, and a fair amount of its cuteness spills into John Stevenson's Sherlock Gnomes -- but not quite enough. In the same way the original treated Shakespeare, there are a number of cute nods and Easter eggs to the history of London's most famous consulting detective, but the plot is lacking even by kids' movie standards. Nobody was expecting a lot from this one, but you don't get bonus points living up to low expectations.
28. The Equalizer 2
Denzel Washington had never signed on to a sequel before deciding to make Antoine Fuqua's The Equalizer 2 -- and to his credit, the decision made sense. The first was a box office hit, and the story presented an opportunity for the character to return. Sadly, the end result is not really worthy of Washington's greatness. While the star is still engaging as the helpful-but-stern Robert McCall, the plot is nothing we haven't seen a thousand times before, paired with completely obvious twists. It does have a unique finale, set in an abandoned coastal town during a hurricane, but it's not enough to elevate the full piece.
27. Super Troopers 2
The long delay waiting for Jay Chandrasekhar's Super Troopers 2 was always going to hurt the end experience watching it. After all, its material best plays to an immature audience, and 17 years is a lot of time for an audience to mature. There are definitely some funny bits, it's the rare sequel that can make the majority of its callbacks work, and it's certainly consistent, but it's also pretty damn stupid, and not anywhere near as (surprisingly) structurally strong as the first.
26. The Nun
Next to the Marvel Cinematic Universe, one could make the argument that the Conjuring Universe is the second most successful multi-tiered franchise, with the majority of the features being shockingly good (and in their own way contributing to the current horror boom). Corin Hardy's The Nun, however, qualifies as a misstep. One can appreciate the extreme change in setting for the brand, and there definitely are a few big jumps, but it also doesn't make you care about the characters anywhere near the level of either Conjuring movie or Annabelle: Creation. Thankfully there will be an abundance of bounce back opportunity arriving next year in the form of Annabelle 3.
25. Mute
Duncan Jones' Mute is another example of another subtle sequel, as there is only a brief moment in the movie that confirms that the story exists in the same continuity as Jones' directorial debut, Moon. What's sad, though, is that this one isn't nearly as great as the Sam Rockwell-led drama. There is certainly some wonderful and beautiful Blade Runner-esque production and costume design in play, as well as a fantastic against-type turn from Paul Rudd, but you're left wanting a lot more from the hard-boiled plot, and from the confusing and underwritten ending.
24. Jurassic World: Fallen Kingdom
Colin Trevorrow's Jurassic World was definitely a mixed bag, and basically J.A. Bayona responded with a mixed bag sequel of his own. There is definitely some good stuff featured in Jurassic World: Fallen Kingdom, as the dinosaurs look great, there are some awesome sequences, and both Chris Pratt and Bryce Dallas Howard look infinitely more comfortable in their roles, but there is also a lot of bad -- like repeating the same mistakes as the first film (why genetically modified dinosaurs?), and straight-up dumb story choices. We can only hope that a sequel with a world filled with the ancient monsters can make for a superior third chapter.
23. The First Purge
There are two primary reasons that The Purge movies work: 1) the creativity of a world defined by different rules, and 2) the horror flick satisfaction that comes with a bit of the old ultraviolence. In both departments Gerard McMurray's The First Purge earns a big meh. It turns out that witnessing the origins of the "no laws" scenario isn't as interesting as watching a society that has already adapted to it, and it's overall pretty tame by franchise standards. While the themes and messaging have never been more prescient, that just makes what's put together more underwhelming.
22. Fantastic Beasts: The Crimes Of Grindelwald
As successful as the Harry Potter franchise has been, David Yates' Fantastic Beasts: The Crimes Of Grindelwald was put in a challenging place story-wise in its development. A decision had to be made: be accessible to all audiences, even those new to the Wizarding World; or play to the diehard fans that most definitely exist in hordes. The feature decided to take the latter route, which was great news for the Potterheads, but resulted in confusion for everyone else. Hopefully future chapters do a better job finding a middle ground.
21. Maze Runner: The Death Cure
The young adult fad dried up years ago, leaving franchises like Divergent to collapse and Mortal Instruments and Beautiful Creatures to stall at the start, but you gotta give credit to Maze Runner for making it all the way to the end. What's more, Wes Ball's Maze Runner: The Death Cure is actually pretty decent while still not being very good. It's annoying that it's another major modern blockbuster with a "magic blood" plot device, but it also offers a mostly satisfying conclusion for both the series' overarching narrative and the majority of the characters.
20. Pacific Rim: Uprising
Steven DeKnight's Pacific Rim: Uprising spent most of its existence as the cinematic equivalent of The Little Engine That Could, and when it finally came out the finished product was... fine. There are many ways in which the movie is an improvement over the first -- from a clearer idea of its audience, to its superior pair of leads -- but it also suffers from an undercooked plot and doesn't do enough to advance the world that Guillermo del Toro introduced to us back in 2013.
19. Solo: A Star Wars Story
The modern generation of Star Wars was on an awesome roll up until 2018. The Force Awakens, Rogue One, and The Last Jedi all offered tremendous thrills, while also building on the beloved expansive sci-fi universe. Ron Howard's Solo: A Star Wars Story, though, didn't really do that. Plagued by behind-the-scenes issues and played incorrectly on the release schedule, the movie is kind of a mess, save for the performance from Donald Glover as Lando Calrissian, Phoebe Waller-Bridge's excellent L3-37, and the impressive Kessel Run sequence.
18. Hotel Transylvania 3: Summer Vacation
Landing right square in the middle of this list we have Genndy Tartakovsky's Hotel Transylvania 3: Summer Vacation. It's certainly not the best Sony Pictures Animation title of the year, as Spider-Man: Into The Spider-Verse is far superior, but it's still a cute cartoon with funny and lovable characters. This franchise is most definitely the best stuff that Adam Sandler is doing these days, and it actually feels like it should be encouraged.
17. Ocean's 8
It's pretty hard to make a heist movie that isn't at the very least a lot of fun, and that's the basic level on which Gary Ross' Ocean's 8 operates. It's working with one of the best casts of the year, including Sandra Bullock, Cate Blanchett, Anne Hathaway, Sarah Paulson, and Rihanna, but it barely skates by on the quality side just because it feels like the script could have used two or three more drafts. We're still cheering for Ocean's 9 and Ocean's 10 to complete the trilogy pair, but this isn't a great start for the relaunched franchise.
16. Goosebumps 2: Haunted Halloween
From a marketing perspective, Ari Sandel's Goosebumps 2: Haunted Halloween was definitely hurt by not featuring more Jack Black in its advertising, if not just because it made the project look like a hack-y spin-off that wasn't willing to pay its predecessor's biggest star. The film was mostly ignored as a result, but it's actually half decent (and does feature Black in a much more limited role). It doesn't have the same spark that the 2015 feature had, but it still has a collection of fun moments -- particularly for the kids.
15. Creed II
Steven Caple Jr.'s Creed II is a good movie that happens to weirdly suffer from being a follow-up. The truth is that Ryan Coogler's film was able to do a lot of special things by the nature of being an in-continuity reboot, including surprising the audience by having the hero lose at the end. The sequel doesn't have that kind of luxury, and is kind of predicable as a result -- though it does still have plenty of nice dressings, including some surprising and excellent callbacks to Rocky IV.
14. Sicario: Day Of The Soldado
While not exactly one of the best films of the year, Stefano Sollima's Sicario: Day Of The Soldado still stands as one of the bigger cinematic surprises. After all, this is a sequel that doesn't feature three key components that made the original excel: director Denis Villeneuve, cinematographer Roger Deakins, and star Emily Blunt. All the same, the movie is still able to make it work, crafting a thrilling narrative that leans on the excellence of Josh Brolin and Benicio Del Toro.
13. Unfriended: Dark Web
Searching got the majority of the attention in 2018 when it came to films with plots that entirely play out on a computer screen, and a consequence of that is that Stephen Susco's Unfriended: Dark Web can now be considered one of the year's most underrated movies. It's similar to the 2014 title in that it's a horror feature with the same aesthetic approach, but rather than doing anything supernatural it keeps things in the real world and pulls off some legitimate twists and turns that you don't see coming.
12. Bumblebee
The Transformers franchise has been running for more than a decade now, and before now each chapter has been anticipated with gritted teeth. But director Travis Knight has successfully turned everything around now with Bumblebee. It's a period film that leans heavily on nostalgia, and the story doesn't exactly revolutionize cinema, but it looks great, has some superb visual effects, and a beating heart inside all of the morphing metal. Bayhem it is not, and it sets an exciting trajectory for the future of these movies.
11. Mary Poppins Returns
With the original having been released in 1964, Rob Marshall's Mary Poppins Returns is the sequel on this list with far and away the most distance from its predecessor -- but part of what makes it special is that watching the movie you don't feel it at all. Instead, you feel like you're locked in a time bubble, taken away like the Banks children on a fanciful and brilliant adventure full of colorful 2D cartoons and endless whimsy. Emily Blunt is -- I'm going to say it -- practically perfect in every way as the eponymous nanny, and could very easily become an icon for generations the same way that Julie Andrews did.
10. Aquaman
Audiences spent 11 months stewing in the disappointment that was Justice League, and it didn't exactly create an atmosphere of high expectations for James Wan's Aquaman. As it turns out, though, that low bar may have been a real gift, as unlike some of the other features on this list, this is a blockbuster that goes above and beyond in the crowd-pleaser department. While his roots are in horror, Wan has a real gift for constructing a thrilling action sequence, and the world introduced here is breathtaking. Suddenly, the future is very bright for Jason Momoa and the DC Extended Universe.
9. Ralph Breaks The Internet
Rich Moore and the folks at Walt Disney Animation Studios created a phenomenal new world filled with video game characters in 2012 with Wreck-It Ralph, and Moore and Phil Johnston's Ralph Breaks The Internet is a wonderful follow-up to that story. In addition to once again creating another stunning visual environment, bringing to life the world wide web, it's also a perfect continuation of the arcs for both Ralph (John C. Reilly) and Vanellope (Sarah Silverman) -- having the characters walk away as very different people than who they were at the start of the story.
8. Ant-Man And The Wasp
Marvel Studios had a pretty damn awesome year. You may have noticed that we haven't touched on any of their contributions to 2018 just yet, and it's because they are all in the Top 8 -- starting with Peyton Reed's Ant-Man And The Wasp. This is definitely the odd-ball series within the larger Marvel Cinematic Universe franchise, but it's also a ridiculous amount of fun, with Paul Rudd's Scott Lang and Evangeline Lilly's Hope van Dyne sent on a crazy, madcap adventure and clearly having a blast the entire way through.
7. Incredibles 2
Fair warning: this Top 10 is 60 percent superheroes, though Brad Bird's Incredibles 2 is the only animated entry. This is a film that went through development shockingly quickly compared to most Pixar projects, but that just makes it all the more awesome that it's as excellent as it is. It's a fitting continuation of the original, advancing the battle against Super oppression in a new and different way, while also doing a nice role swap with Mr. Incredible (Craig T. Nelson) and Elasti-Girl (Holly Hunter), letting them explore new areas narratively. We won't hold out hope for an Incredibles 3, but we'd welcome it with open arms as long as Bird is at the helm.
6. Paddington 2
Between Mary Poppins and Paddington, this was a great year for characters in London wearing blue coats and red hats. Director Paul King first delivered an amazing adaptation of the classic kids' books in 2014, and with Paddington 2 he's created a sequel that is arguably superior. It's super cute, weird, and charming, and has some wonderful new additions, like Hugh Grant and Brendan Gleeson. These movies deserve to be instant classics, as they are the perfect family films -- easily enjoyed by audiences of all ages.
5. Halloween
Similar to The Predator, Michael Myers has existed as a genre icon for decades, despite the fact that most of the films made about him have been pretty terrible. But while that wasn't a disrupted trend for the apex extraterrestrials in 2018, things did turn around in a major way for the psychopathic, knife-wielding killer. David Gordon Green's Halloween is an exceptional bit of franchise filmmaking, in that it finds a way to honor and respect the legacy while also rewriting the whole thing. Jamie Lee Curtis delivers one of the best performances of her career, and even when it's scaring you it simultaneously makes you want to jump out of your chair and cheer.
4. Black Panther
Chadwick Boseman's T'Challa a.k.a. Black Panther got a stunning introduction in 2015 with Captain America: Civil War, but still it didn't fully prepare us for what Ryan Coogler would have in store for us with the character's first ever solo adventure. The world of Wakanda is a stunning, and dream-like vision, and the story packs an awesome punch while addressing issues that really only a Black Panther movie could tackle in the superhero realm. Michael B. Jordan's Erik Killmonger makes for one of the great comic book movie villains that we've seen, and Lupita Nyong'o, Danai Gurira, and Letitia Wright have created a trio of characters in Nakia, Okoye and Shuri that young girls will be looking up to for generations.
3. Mission: Impossible - Fallout
Escalation in the Mission: Impossible franchise has truly gotten out of hand... in a good way. Each movie is basically required to try and up stakes from the last one -- specifically with very real and very dangerous stunts -- and it's mind-boggling to watch Christopher McQuarrie's Mission: Impossible -- Fallout and realize how far the films have come. Not only are the action set pieces glorious -- from jumping out of planes, to motorcycle chases, to mid-air helicopter battles -- but the performances by Tom Cruise, Simon Pegg, Rebecca Ferguson, Ving Rhames, and Henry Cavill also make the film endlessly fun and engaging.
2. Deadpool 2
In today's context, it's insane to think that four years ago 20th Century Fox wasn't willing to put a dime towards a Deadpool movie. Now, not only is the character the most popular box office draw in the X-Men stable, but he's been at the front of two absolutely spectacular films. David Leitch's Deadpool 2 is a phenomenal sequel that delivers in the best way, guided by the vision of Rhett Reese, Paul Wernick and Ryan Reynolds, as it perfectly capitalizes on everything that's great about its predecessor while throwing in extra excellence like Cable (Josh Brolin) and Domino (Zazie Beetz) into the mix. The action is phenomenal, the performances are first-rate, and it's hilarious throughout.
1. Avengers: Infinity War
Joe and Anthony Russo's Avengers: Infinity War basically earns the top spot on this list by being the uber-sequel. No film before it has ever been informed by so many previous blockbusters, the continuity of the Marvel Cinematic Universe all coming to a head in two-and-a-half hours, and it's shocking and spectacular to see how well it all coalesces. While there are many superheroes flying around, this is Thanos' (Josh Brolin -- three features in the Top 15!) time to shine, and it's an epic and unforgettable ride with the rare distinction of being a story where the protagonist claiming victory is utterly devastating. It's powerful, incredible movie magic, and the best sequel of the 2018.
Your Daily Blend of Entertainment News
Assistant Managing Editor
NJ native who calls LA home and lives in a Dreamatorium. A decade-plus CinemaBlend veteran who is endlessly enthusiastic about the career he's dreamt of since seventh grade.