The Simpsons, Futurama And The Legendary Career Of Matt Groening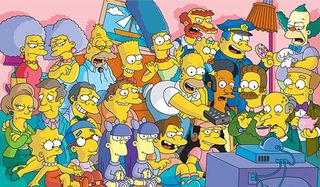 Late in the last century, Matt Groening emerged as a huge agent of change in the world of comedy and animation. With the development of The Simpsons, he was at the forefront of a new wave of animators and comedians who were rewriting how the world saw cartoons. Guys like Mike Judge, the creator of Beavis & Butthead, John Kricfalusi, the mind behind Ren & Stimpy and of course Trey Parker and Matt Stone from South Park all became names at similar times.
It was Matt Groening that led the way, starting modestly with his groundbreaking comic strip Life in Hell in the '80s, which led directly to his creation of The Simpsons, which begat Futurama, a show which is not quite a spinoff of The Simpsons but shares a whole lot in common with its humor.
Most recently, Matt Groening has joined the streaming world with the first season of Disenchantment on Netflix and there is reason for Groening fans to believe that his record of success will continue. He may forever be associated with that magical time in animation in the 1990s, but it all actually all started way back when bellbottoms were the highest fashion, Grand Funk Railroad ruled the Billboard charts, and Homer Simpson still had a full head of hair.
Matt Groening's Early Career
Matt Groening got his start in comic strips. He had always been a fan of newspaper comics, like Peanuts and Nancy and when he got older, he discovered the likes of the more subversive comic artists of the day, especially Robert Crumb.
With those artists as his inspiration, after college he moved to Los Angeles from his native Oregon and began drawing his first major work, the comic Life In Hell, about a weird-looking rabbit named Binky, his on-again-off-again girlfriend Sheba and his son (not with Sheba) named Bongo.
Then there are Akbar & Jeff, two gay lovers -- or is it brothers -- who are essentially identical looking and mostly seen arguing with each other. Either way, they were groundbreaking characters as openly gay men in media in the early '80s. The comic strip also featured peeks into characters he would later develop into the Simpson family, namely Bart.
At some point in the mid-eighties, legendary TV producer James L. Brooks, the creator of such iconic '70s shows as Taxi and The Mary Tyler Moore, was in the midst of developing The Tracy Ullman Show for the upstart Fox Network when he first saw one of Matt Groening's Life In Hell comic strips. He loved and reached out to Matt Groening with an idea.
James L. Brooks approached Matt Groening about creating short, animated "bumpers" for Tracy Ullman's sketch show, and while Groening was intrigued by the idea, he feared losing control of his beloved characters, so he decided to come up with a new idea and a new set of characters. The shorts would revolve around a dysfunctional family named The Simpsons.
The History Of The Simpsons
The first short featuring The Simpsons on The Tracy Ullman show premiered on April 19, 1987, as part of Episode 3 of Season 1. It was about two minutes long, called Good Night. The animation was rudimentary and not all that removed from Matt Groening's style in the Life In Hell comic strips. It also occasionally featured cameos from his Life In Hell family of rabbits.
The Simpsons became a regular part of the show thereafter, and every episode of Seasons 2 and 3 featured a Simpsons short, with 48 in total. One of these shorts from Season 3, titled Family Therapy was also released theatrically as a lead-in to the Kathleen Turner/Michael Douglas black comedy, War Of The Roses.
In the wake of the popularity of the shorts on Tracy Ullman, Fox greenlighted a season of full half-hour episodes for the 1989-1990 television season and on December 17th, 1989, The Simpsons debuted. While it was no surprise the show was a hit, there was no way for Matt Groening or anyone else to predict that it would become the longest-running scripted primetime television shows in history, still producing new episodes and drawing big ratings an astonishing 30 years later, ten years more than its closest rivals.
The Simpsons took a season or two to truly find its voice, but once it did, it became a juggernaut. It was the first runaway hit for Fox and it is not a stretch to say that without it, the network wouldn't be what it is today. Matt Groening served as the co-showrunner of the show for the first couple of seasons, but his influence on it as the creator is undeniable. Many characters are named after his own family members and the town of Springfield, meant to be Anytown, USA, is loosely based on his hometown of Portland, OR, though not specifically so.
After the huge success of The Simpsons, which including best-selling merch and commercial endorsements, notably, Butterfinger, Fox approached Matt Groening to develop another animated show. He pulled in Simpsons writer David X. Cohen and Futurama was born.
The History Of Futurama
The history of Futurama is scattered and uneven, but that is not the fault of the creators of the show, whose vision for the show and the characters was clear from the beginning. It is a history of starts and stops and fits, but it's also the story of loving care by the creators and passion from its loyal fans.
Futurama's story begins with the premiere episode that was written by creators Matt Groening and David X. Cohen, who also served as the showrunners for all of Futurama's run, which eventually involved three networks and a series of direct-to-video movies in between a years-long break between new episodes after Fox essentially canceled it in 2003 after four seasons. It returned on Comedy Central in 2009 and ran for three more seasons, including the four feature-length straight-to-video episodes that eventually made up Season 5.
The animation is similar to The Simpsons, though the used much more CGI from the very beginning, whereas the early seasons of The Simpsons were almost entirely hand drawn. The humor is also more esoteric and…nerdier… than The Simpsons, almost as if they gave The Comic Book Store Guy his own show to write, and for the humor and writing, Groening and Cohen did extensive research into old science fiction movies and comics.
While The Simpsons, does have what could be considered a strong "cult" following by the most diehard fans, its appeal, as is evident from incredible run of more than 600 episodes to date, is far broader than Futurama, but Futurama is the very definition of a cult classic, with a smaller but just as dedicated fan base.
The History Of Disenchantment
Five long years after Futurama's run on Comedy Central came to end, Matt Groening and Netflix announced they were teaming up for a new animated series called Disenchantment about the disenchanted and disillusioned Medieval princess, Princess Bean and her demon, Luci.
Disenchantment is the darkest of the three Matt Groening animated series by far. While his shows have always been adult-oriented, they still relied on more kid-friendly tropes, like a traditional cartoon. Disenchantment has almost none of that, save for Luci the demon and Elfo the happy go lucky elf and foil to Luci. Bean is a heavy drinker that is in constant rebellion against her family and her life.
Disenchantment's animation is much more similar to Futurama's as is the humor. Matt Groening has always had a undercurrent of dark humor, but in this show, he is really letting his dark flag fly and while the reviews have been mixed, it's safe to say that like early Futurama and early Simpsons, it maybe has not fully found it's voice yet, but that it will likely will. It is trademark Groening and Disenchantment has found its fanbase, if not its mature voice yet. Netflix, thankfully, is giving it time to breath and has already announced that it has renewed more episodes to run at least through 2021. If the past is indication, it will no doubt turn into another hit for Matt Groening.
From his humble beginnings with his simple drawings and biting, sarcastic, and dark sense of humor that formed the brilliant comic Life In Hell comic to the unsurpassed and incredible success of The Simpsons Matt Groening's success is the stuff of legends. It's highly unlikely that show will have the longevity or profound impact on comedy like The Simpsons has had. It's hard to believe it's lasted this long and who knows, might not ever end. Meanwhile, Groening continues to draw on that wickedly sharp sense of humor in the modern age of streaming and binging with Disenchantment. His vision for all three shows have reshaped comedy forever.
Your Daily Blend of Entertainment News
Hugh Scott doesn't believe aliens are hidden at Area 51 or that Elvis is alive, but he does believe birds are real and Meghan Markle isn't treated fairly by the tabloids. He's been writing about music, movies, and celebrities for most of his adult life after realizing stocking shelves in a paper warehouse in college wasn't all it was cracked up to be.