Netflix's Disenchantment Reviews Are In, Here's What Critics Think Of Matt Groening's New Show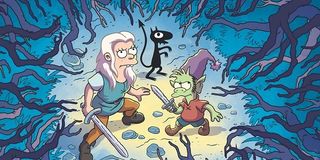 When it was revealed that Matt Groening was releasing his third animated series, Disenchantment, on Netflix, fans of The Simpsons and Futurama alike were wondering if the series would live up to the acclaim and cult status of his past shows. Well, critics have had their time with the show, and the general consensus so far seems to be "meh." This is certainly true for CBR's Josh Bell, who walked away from the new show somewhat disappointed after his viewing:
Bell's specific gripe in this instance was Matt Groening's refusal to deviate from his traditional television formula and, perhaps, present a more risque product to audiences now that he's on Netflix. Those hoping the same will be disappointed, as Disenchantment does nothing to capitalize on the platform's looser restrictions, to the point that it could air on cable television with little to no editing. Bell also found the first 10 episodes a bit lacking in content, but did concede that the world-building Groening and crew have constructed has the groundwork for far more exciting adventures. The Daily Dot's Michelle Jaworski can definitely get behind that latter statement, and indicates that fans will stick around for more episodes thanks to the show's core cast:
There's certainly a sense that critics struggled in giving Disenchantment a fair shake, as it's not necessarily fair to measure the new series against the likes of animated royalty like The Simpsons. THR's Daniel Fienberg was certainly someone who was disappointed following his viewing experience, due to the show's lack of a definite direction, although he also realized it may not be fair to hold the series to that standard just yet:
Even if The Simpsons and Futurama weren't the shows they eventually became just in their first season, there was definitely something that kept viewers engaged and tuned in enough to give the series time to develop the styles they would later employ. Some critics don't believe Disenchantment will get that same opportunity, with Michael Starr from the New York Post reporting that the show doesn't have enough substance and fresh ideas to keep older fans engaged:
Starr's criticism is rough, although it may be fair enough to say, because many other critics also pointed to the show searching for laughs in rather obvious or played out ways. An adult-oriented animated series might have been able to slide by with those laughs in the '90s, but in an age where Disenchantment has to compete with Bojack Horseman, Bob's Burgers, Archer and a slew of other animated comedies with talented actors, it might just have work a bit harder to keep audiences engaged. Not all critics feel that way, however, as Rolling Stone's Alan Sepinwall seemed to find more to love despite his criticisms:
Really, what each critic seems to land on is that Season 1 of Disenchantment isn't a grand slam by any stretch, but there is certainly potential for the series to turn into a dinger before much longer. As for how they might be able to do that, Slate's Sam Adams seems to suggest that perhaps Matt Groening and crew attempt to have this show be something different than the new version of The Simpsons or Futurama and let it find its own identity in future episodes:
Disenchantment arrives on Netflix Friday, August 17, at 12:01 a.m. PT. Those interested can check it out then, or visit our Netflix premiere guide and see what else is available to watch. For a look at other television offerings in the coming weeks, head on over to our summer and fall premiere guides.
Your Daily Blend of Entertainment News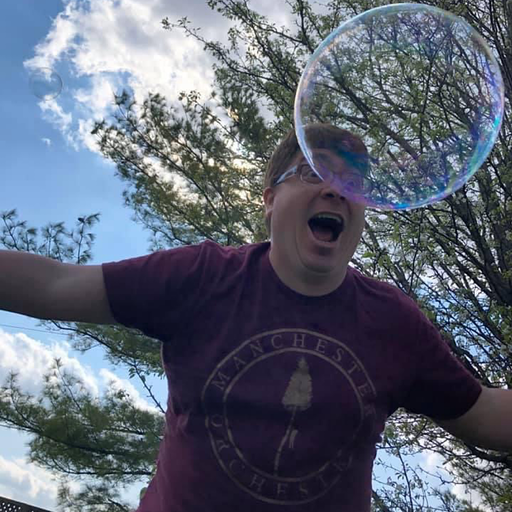 Mick contains multitudes and balances his time reporting on big happenings in the world of Star Trek, the WWE, reality television, and other sci-fi shows.