ABC President Addresses Policy After The Rookie Harassment, Sexual Assault Allegations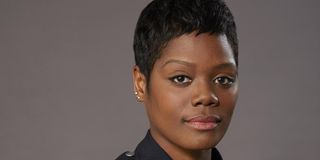 It's been a few weeks since we first learned the shocking news that The Rookie series regular Afton Williamson was quitting the ABC show, despite being a popular and major character on the series. A short time later, the actress revealed she ultimately opted to leave the show due to what she says was harassment from a guest star as well as sexual assault from a hairperson on set. She later named the two people involved in her decision to quit. We later learned independently outside of her posts that an investigation was launched by eOne, the production company behind The Rookie.
So, where does ABC, the network that actually airs the Nathan Fillion-led The Rookie, fit in? During the Television Critics Association Summer Press Tour, ABC President Karey Burke explained what she has heard about the situation, revealing ABC has been aware of the alleged incidents since June.
Afton Williamson's initial allegations were released publicly and included sexual assault and racism, clearly they needed to be addressed in some forum, particularly after Williamson ultimately quit The Rookie. She also reports that executive producers on the show were "bullying" her during Season 1 of the ABC drama in regards to what was happening and that HR protocol hadn't been followed.
Her full remarks can be viewed here.
Following the allegations from Afton Williamson, eOne stated an investigation was underway and ABC made an official remark, but at TCA, ABC President Karey Burke talked a little bit more about the investigation.
She spoke more about why the investigation results from eOne should be trustworthy, whatever the investigation finds, noting that eOne is not investigating the matter itself but has hired a third party to figure out what happened on The Rookie set, which led Afton Williamson to quit. She also revealed that even though it's unfortunate this situation came about in the way it did, it should help the network and independent production companies figure out how to handle these sorts of issues more effectively in the future. She said:
Shortly after Karey Burke revealed ABC's stance on the matter, Afton Williamson took to social media to call out the people she says were problematic on set, publicly identifying Hair Department Head Nicole Ciganovich as the person she says sexually assaulted her. She says guest star Demetrius Grosse, who appeared in five episodes of The Rookie as Detective Kevin Wolfe, also sexually harassed her during her time on the series.
In a previous post, she says she requested he be fired, but that the actor was instead asked back. Afton Williamson has also alleged that she feels HR was brought into the fold too late and that she was asked to start filming Season 2 of the series before all of the aforementioned allegations were properly addressed. She said previously:
All of this news broke just two short weeks after we first learn Afton Williamson would not be returning for Season 2 of The Rookie, although at the time of her exit it was specifically mentioned she was parting ways with the show "amicably." That obviously is not what happened with the actress and the network television show. So far, those people Williamson alleged caused her problems on set have not spoken out about any of the allegations.
Karey Burke has now spoken, but says due to ABC partnering with an outside production company on The Rookie, all ABC does for shows is offer an HR partner. She also mentioned at TCA she hopes those involved with shows "feel comfortable" going to HR.
As a whole, ABC and eOne have only released statements to say the multiple reported incidents by Afton Williamson are being looked into, although Karey Burke took this a step further when she explained what happened may influence policy in the future.
Over time, we may learn more details regarding what went on in the set of The Rookie, although we may never know the exact findings of the independent investigation. In the meantime, the show will still be returning for its second season on ABC. A moderate ratings winner, the show has mostly acted as vehicle for Nathan Fillion, who ultimately opted to stick with ABC and a network TV gig after his last successful series Castle ended. It does also focus on various plotlines related to its ensemble cast, however, of which Afton Williamson was definitely an important part.
Nathan Fillion himself recently confirmed The Rookie was already back in production for Season 2 with a post about filming the sophomore season of the drama, which stars Fillion as a divorced man named John Nolan who has decided to change careers and work as a police officer, though he is late in his life to be starting this type of career.
The Rookie also stars Alyssa Diaz, Richard T. Jones, Titus Makin, Mercedes Mason, and Eric Winter, none of whom have been mentioned in the public allegations or in relation to the investigation.
ABC is currently ramping up its fall lineup, which will include The Rookie, but also returning favorites like Grey's Anatomy, Modern Family and many, many more, and that's not even mentioning the network's new programming. You can see what all is on the slate for the 2019-2020 season with our full TV schedule.
Reality TV fan with a pinch of Disney fairy dust thrown in. Theme park junkie. If you've created a rom-com I've probably watched it.