Project Runway's Chris March Dies At Age 56: Bravo Stars Honor 'Favorite' Designer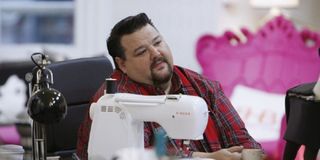 Project Runway's Chris March has died at the age of 56. March competed on the Bravo series in Season 4 and was one of the season's most memorable contestants. Though he didn't win, March went on to design clothing for some of the biggest names in the industry, including Lady Gaga, Beyoncé, Madonna, and Meryl Streep.
In a statement from a Bravo spokesperson (via The Hollywood Reporter), the network offered its condolences and mentioned how much of a fan favorite Chris March was among audiences.
Andy Cohen, host of Bravo's Watch What Happens Live with Andy Cohen took to Instagram to express his heartbreak over Chris March's death and how much he loved working with him. Along with the caption, Cohen included a picture from March's appearance on his show. Read Cohen's post and see the fun picture of him and March in full Halloween mode below.
Christian Siriano -- who won Project Runway Season 4 on Bravo before reaching worldwide fame and returning this past year as the new Project Runway mentor -- also shared a tribute to his fellow designer:
Project Runway judge Nina Garcia also reached out to honor Chris March:
After his initial appearance on Project Runway, Chris March starred in a slew of reality shows, including the All-Star Challenge special in 2009 and Project Runway All Stars in 2015. The designer even got his own solo show on Bravo called Mad Fashion, which aired back in 2011. However, it didn't last very long, airing for ten episodes before being canceled.
Chris March reportedly died from a heart attack, though he hadn't been in good health for a couple of years. After an accidental fall, which occurred inside his home in June 2017, March fell into a coma. Though he eventually came to, the designer struggled with other health issues and complications, as well as rising healthcare costs. It had proven to be a long road to recovery. Seeing his struggles, a close friend of his created a GoFundMe on his behalf and fans had contributed over $59,000 to help cover his bills.
In March of this year, Chris March provided further details about his health status. In a post to his GoFundMe page, the designer stated that his medical bills had increased by "500%" and that he needed financial support for things like "leg braces, specialized physical therapy, a hearing aid, and a new living arrangement" among several other needs.
To those who loved him and his work, Chris March will always be remembered as someone who was passionate about designing, and his legacy will carry on through the fashion he created and the joy he brought to others.
Your Daily Blend of Entertainment News
Thank you for signing up to CinemaBlend. You will receive a verification email shortly.
There was a problem. Please refresh the page and try again.