America's Got Talent Vet Howard Stern Blames Simon Cowell's 'Boys Club' For Gabrielle Union Firing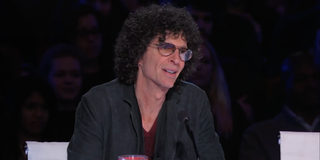 Last month, news broke that America's Got Talent had unexpectedly dropped Gabrielle Union and Julianne Hough as judges after Season 14. Since then, controversial reports about the reasons behind Union's departure have emerged, leading former America's Got Talent's judge Howard Stern to blame Simon Cowell's "boys club" for the actress' firing.
Howard Stern served as an America's Got Talent judge from Season 7 to Season 10 and he took to his SiriusXM show Monday to explain why he believed Simon Cowell was at fault for Gabrielle Union's exit. Here's what he said:
This seems to fall in line with the allegation that Gabrielle Union and Julianne Hough received "excessive" comments on their physical appearance, with insiders claiming that Union's hairstyles in particular were perceived as being "too black" for America's Got Talent audiences.
Moreover, Simon Cowell was reportedly allowed to smoke indoors even though it was illegal to do so. All of these incidents allegedly led to tension behind the scenes and it's compounded enough for Howard Stern (via TVLine) to speak out about it as well.
Additionally, sources alleged that Gabrielle Union asked NBC producers to report Jay Leno's inappropriate comments to Human Resources and to remove a white contestant who had darkened his hands when portraying Beyonce during an audition taping. However, according to sources, both of these incidents went unheeded by NBC, though the contestant's audition was later confirmed to have been edited out of the episode.
While NBC is currently working with Gabrielle Union to "hear more about her concerns," the women of Hollywood quickly came to the actress' defense after reading up on the toxic environment she reportedly endured. Grey's Anatomy star Ellen Pompeo blasted the show and NBC for allowing such behavior and The Good Place's Jameela Jamil even called for Simon Cowell's removal from America's Got Talent. That might be a bit hard since Cowell helped create the competition series, but it's possible Howard Stern would get behind his exit if it were to ever occur.
The controversy has sparked a lot of chatter and attention. Even the SAG-AFTRA labor union launched an independent investigation into the allegations, stating that they "take issues of workplace health and safety very seriously."
America's Got Talent still airs on NBC, though its 14th season is over. However, Season 2 of America's Got Talent: The Champions, where Simon Cowell will still be a judge, is set to premiere on NBC January 6, 2020.
Your Daily Blend of Entertainment News