Altered Carbon Reveals New Takeshi Kovacs In Spinoff Trailer, And We've Got Questions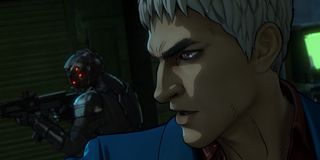 Just a couple weeks after the release of Season 2 of Altered Carbon, Netflix has dropped the first trailer for its spinoff anime. The series, Altered Carbon: Resleeved, is a spinoff set in the world of Altered Carbon and, surprisingly, the hero of the adventure is Takeshi Kovacs.
What's more interesting is that the hero is in a completely new sleeve, and working alongside a CTAC agent to protect a tattoo artist. I, and anyone who watched Altered Carbon, should have a lot of questions about this, especially after watching this action packed trailer.
Protecting a tattoo artist feels like small potatoes compared to the adventures we've seen Takeshi Kovacs in thus far, but that's a question for another time. There are much bigger fish to fry in terms of all that's happening with this series, like what's going on with Kovacs and that new sleeve.
A New Takeshi, But Which Takeshi?
Following the events of Altered Carbon Season 2, there are two Takeshi Kovacs out in the universe. One sacrificed himself at the season's end and currently has his entire stack backed up on Poe's hard drive, and the other is his CTAC clone Takeshi Prime.
With one Takeshi in need of a new sleeve and the other capable of switching bodies if that birth sleeve he had isn't working for him, which Takeshi will this series follow? It's a question that presumably fans would want to know considering Altered: Carbon: Resleeved could feature some hints that tease where a potential Season 3 of the series could go.
When Does Altered Carbon: Resleeved Take Place?
One bit of information that could clear things up a bit is when Altered Carbon: Resleeved takes place. If this is a prequel series, then this could be Season 1 and 2's Takeshi Kovacs in the sleeve. If it takes place after Season 2, then my best guess is this is the next adventure for Takeshi Prime.
As Season 2 stated time and time again, dual-sleeving is illegal. Takeshi Prime got a pass because he was believed to be the only living Takeshi Kovacs once Season 2 was all said and done, so it tracks he'd continue using his namesake. While it is true that Season 1 and 2's Takeshi is in need of a new body, he'd have to be aware of the risk he'd take making his true identity known again. At least to strangers, so I can't imagine he would publicly go under the name Takeshi Kovacs if Poe brings him back.
Will Altered Carbon: Resleeved Impact The Live-Action Series?
With one version of Takeshi Kovacs set to star in Altered Carbon: Resleeved, one has to wonder if this adventure will have any impact on the live-action story in Altered Carbon. Obviously that answer will depend on a lot of answers to questions listed above, and possibly on whether or not Altered Carbon returns for Season 3.
There may be some connection in Altered Carbon: Resleeved to previous episodes of Altered Carbon, as the story puts Takeshi in charge of protecting a Yakuza tattoo artist. Takeshi was once part of the crime outfit after seeing his sister Reileen had joined their ranks, and had a good relationship with the centuries old boss Tanaseda Hideki. Perhaps this story will flesh out more of Takeshi's time as part of the Yakuza, or possibly show where he stands in the organization after Hideki's death.
The answers to these questions will likely be answered when Altered Carbon: Resleeved (opens in new tab) arrives on Netflix Thursday, March 19 at 12:01 a.m. PT. Stick with CinemaBlend in the meantime for more on what's happening with shows on Netflix, and for a look at what's happening in the world of television and movies at large.
Mick likes good television, but also reality television. He grew up on Star Wars, DC, Marvel, and pro wrestling and loves to discuss and dissect most of it. He's been writing online for over a decade and never dreamed he'd be in the position he is today.
Your Daily Blend of Entertainment News
Thank you for signing up to CinemaBlend. You will receive a verification email shortly.
There was a problem. Please refresh the page and try again.