Sacha Baron Cohen Sneaks Into Right Wing Rally, Sings About Dr. Fauci And Covid-19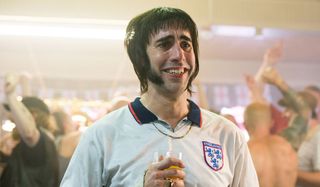 Few people commit to a prank harder than Sacha Baron Cohen. The popular comedian and character actor has repeatedly put himself in awkward and sometimes even dangerous situations in order to get material for his movies and TV shows. That continued this past weekend when he reportedly showed up at a March For Our Rights rally, went on stage in heavy makeup and performed a song about intentionally harming and/ or infecting liberals, minority groups and various political figures like President Obama and Dr. Fauci with Covid-19.
Details about what exactly happened are still emerging, as it was a pretty chaotic situation, but the basic outline seems to be at least somewhat clear, as told by The Daily Beast. Basically, an event called March For Our Rights 3 was organized in Olympia, Washington. Sometime beforehand, an organization allegedly reached out and offered to sponsor the event, provided it made room for an additional band and security guards. The event, which was allegedly organized by a group with ties to a right wing militia, reportedly agreed, but the sponsor was allegedly Sacha Baron Cohen, who was also the lead singer of the new band.
He hit the stage during the event heavily disguised and proceeded to bust out an extended song of more than eight minutes that touched on conspiracies, anti-liberal politics, racism and science. At various points, he also implored the audience to sing with him. Some did, though it's unclear based on the direction of the video, how many participated and/ or how many total people were even at the event. You can check it out below…
The internet's best guess is that the stunt/ prank/ protest act was likely something Sacha Baron Cohen is shooting for Who Is America? Season 2. Right now, however, none of that is confirmed. It's all theory, speculation and confusion, which is a trifecta the comedian has thrived on during his career. Sometimes letting people wonder for awhile is far better publicity than clearing up the rumors. We'll have to see.
Cohen has long made a career out of lampooning sub-sections of culture. He's targeted politicians, celebrities, racists, homophobes and a wide variety of others. At this point, it's unclear whether his target is more generally aimed at the far right wing or whether he's going to be focusing on the pushback against Covid-19 restrictions or what. Then again, it's also still possible that he just did this as a prank to raise awareness about fringe protests and isn't planning to use the footage for anything else. We're just going to have to wait and let him speak for himself unless more information emerges.
We'll keep you updated if/ when either Cohen or Showtime releases more information. Until then, feel free to check our Borat or Da Ali G Show in preparation for hopefully seeing this footage at some point.
Enthusiastic about Clue, case-of-the-week mysteries, the NBA and cookies at Disney World. Less enthusiastic about the pricing structure of cable, loud noises and Tuesdays.
Your Daily Blend of Entertainment News
Thank you for signing up to CinemaBlend. You will receive a verification email shortly.
There was a problem. Please refresh the page and try again.