Naya Rivera Gets Heartfelt Tribute From Cory Monteith's Mom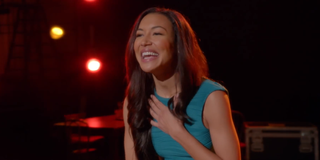 Since news broke of Naya Rivera's death, the outpouring of love and grief has been immense. The late Glee actress went missing on July 8, after renting a boat to take out on Lake Piru with her four-year-old son, Josey. Five days later, on July 13, Rivera's body was recovered and the cause of death was confirmed to be accidental drowning. Recently, Cory Monteith's mom paid tribute to Rivera in a heartfelt post.
Several former Glee co-stars honored Naya Rivera at the location of her disappearance right before she was found. Since the announcement of her death, the late actress' co-stars have been posting thoughtful and loving messages and stories about Rivera. Cory Monteith's mother, Ann McGregor, also shared a beautiful tribute to Rivera, touching upon her friendship with Monteith, who died seven years ago. Here's what McGregor wrote in an Instagram post:
The post is incredibly thoughtful, lovely, and full of emotion. I can only imagine how gutted Ann McGregor was when she heard about Naya Rivera's death on the exact same day that her own son died. She stated how "truly heartbroken" she was and went on to add how much Rivera meant to her family. In her words:
Included alongside the tribute are pictures of Cory Monteith and Naya Rivera together, laughing and looking happy. It's so sad to think that they're no longer with us. You can read Ann McGregor's full message below.
It's incredibly tragic that on the seventh anniversary of Cory Monteith's death, Naya Rivera's body was found at Lake Piru. Monteith died from mixed drug toxicity, a combination of heroin and alcohol that was ruled accidental. Glee alum Kevin McHale was convinced that Monteith somehow helped find Rivera after five days of searching, despite not being religious. They were both gone too soon.
Our sincerest condolences go out to Naya Rivera's family, friends, and loved ones who are grieving in this difficult time.
Your Daily Blend of Entertainment News