Bryan Cranston Reveals The Awesome Breaking Bad Props On Display In His Home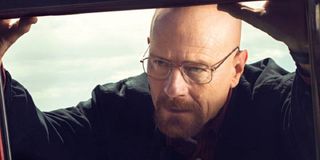 Seven years after the show ended, Breaking Bad still dominates conversations about great television shows. Considering its popularity and what the show meant to so many, you can imagine that the actors themselves have kept a memento or two from their days on the show. With that in mind, Bryan Cranston recently revealed the awesome Breaking Bad props on display in his home.
The AMC drama was so good that it spawned a prequel series in Better Call Saul and Netflix's El Camino: A Breaking Bad Movie, which served as a sequel/epilogue to the long-running series. Naturally, Bryan Cranston is asked about the series whenever the opportunity arises. In an appearance on The Tonight Show Starring Jimmy Fallon, Cranston discussed his return to the world of Breaking Bad in El Camino, calling it a "fantastic" experience.
The project was very hush-hush at the time, as the actor could not reveal that he was reprising his role as Walter White in the movie. Host Jimmy Fallon was riveted by the story and wondered if Bryan Cranston got to keep Heisenberg's famous black hat. Cranston laughed, joking that "'keep' is a very loose term" before pulling out his prized possessions: Heisenberg's glasses and original hat. Take a look below!
It's pretty awesome, right? It's a bit hard to see with the reflection of the screen, but the hat sits right in the middle of the case, with the glasses resting at the front. You can tell Bryan Cranston cares to keep his Breaking Bad props in good shape because he's got the hat and glasses in a glass case and everything! We can thank quarantine for this moment because if Cranston had appeared on The Tonight Show in-studio, I'd wager he would have left the hat and glasses safe at home.
The actor later weighed in on the popular fan theory that Walter White didn't die at the end of Breaking Bad. Rather, some fans have pondered whether he's still alive and got a new identity as Hal on Malcolm in the Middle. It's a pretty fun theory, to be sure. That said, Bryan Cranston can confirm that Heisenberg did not get himself a new identity and is, in fact, dead. So there you have it (just in case anyone was still wondering).
In the years since Breaking Bad ended, Bryan Cranston has kept busy doing voiceover work for the animated SuperMansion, as well as appearing in movies like Last Flag Flying, Trumbo, Power Rangers, and more. Luckily, Cranston doesn't seem completely done with the Breaking Bad universe, as he and co-star Aaron Paul would love to appear in Better Call Saul. Make it happen, writers!
Stay tuned to CinemaBlend for updates on all things Breaking Bad and more. In the meantime, be sure to check out our 2020 fall TV premiere schedule for more options.
Your Daily Blend of Entertainment News
Thank you for signing up to CinemaBlend. You will receive a verification email shortly.
There was a problem. Please refresh the page and try again.