Why Breaking Bad Star Dean Norris Thinks The Show Remains So Beloved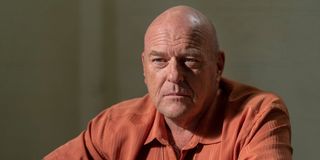 There's nothing like a prequel series to bring beloved characters back from the dead, so to speak. In this week's episode of Better Call Saul, Breaking Bad fans reunited with Dean Norris' DEA Agent Hank Schrader. By reprising his role as Walter White's brother-in-law in Better Call Saul, it marks the first time Norris has been back since his demise near the end of Breaking Bad's five-season run. Years after it ended, Norris has reflected on why the AMC show remains so beloved.
Better Call Saul is set six years before Breaking Bad and follows Walter White's attorney, then Jimmy McGill, on the road to becoming Saul Goodman, and some would argue it is just as good in quality as its parent show. While that may very well be the case, it's Breaking Bad that retains its status as a pop culture phenomenon. The show may have ended in 2013, but it remains as popular as ever. Speaking with TV Insider, Dean Norris shares his thoughts on why the show still resonates with fans. Here's what he had to say:
Dean Norris is right: a good story can last forever, and Breaking Bad's placement at Netflix has helped to lift the show's status even higher. Just like Friends amassed a new generation of fans in the years it streamed on Netflix, so has the beloved AMC show, albeit with different kinds of fans involved.
However, the show was still immensely popular during its original AMC run, quadrupling in audience numbers over the course of its last two seasons, culminating in a viewership high of 10.3 million viewers who tuned into watch the series finale live. That number pretty much says it all. Not to mention how Walter White's iconic "I am the one who knocks" quote still shows up on so many t-shirts and mugs, along with other quotes, images and connections.
Thankfully, Better Call Saul provides the opportunity for fan favorite characters to return to the world of Breaking Bad in entirely new ways. Dean Norris wasn't the only one to reprise his role recently. He was joined by fellow DEA agent Steven "Gomey" Gomez. Both Norris and Steven Michael Quezada are set to appear in another episode of the spinoff prequel soon, though fans are still waiting to see if Bryan Cranston will ever reprise his role on the show. (It's not happening this season.)
Better Call Saul airs Monday nights at 9 p.m. ET on AMC. For more on what to watch, be sure to check out our 2020 midseason schedule for updated premiere dates and times.
Your Daily Blend of Entertainment News
Thank you for signing up to CinemaBlend. You will receive a verification email shortly.
There was a problem. Please refresh the page and try again.