Nick Cordero's Wife Shares Fond Memories Of Late Husband As Part Of Broadway Fundraiser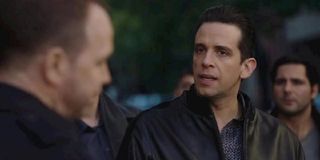 Many in the Hollywood and Broadway communities are still mourning the tragic death of Nick Cordero, who passed away at the age of 41 following a lengthy battle with COVID-19. During his medical ordeal, his wife, Amanda Kloots, kept the public updated on his status and has continued to chronicle her journey with young son Elvis. Kloots has found some very sweet ways to pay tribute to her late husband, and her latest comes in the form of a Broadway fundraiser.
This past weekend, Amanda Kloots remembered Nick Cordro with a fundraiser conducted through BroadwayOnDemand.com. During the event, Kloots opened up and shared fond memories of her husband. At the start of the event, Kloots said that Cordero would want the memorial to be an occasion that makes people smile, sing and "remember his life in a beautiful way."
Many of Nick Cordero's former castmates from shows like A Bronx Tale and Rock of Ages were also present and shared their memories of him and discussed the impact of his work. In addition, Amanda Kloots spoke on Bullets Over Broadway, the play that essentially changed Cordero's life. But aside from his career, Kloots also shared personal moments on screen, such as their wedding dance and the birth of their son. She later closed the memorial by talking about Cordero's music.
It's hard to imagine a better celebration of life for Nick Cordero. Some may not have been aware of just how impactful his stage work was, and this memorial did a beautiful job of conveying the significance of his body of work.
Amanda Kloots have been very protective of Nick Cordero's legacy since his passing, and she's been very candid when discussing her life without him. She previously detailed the beautiful memorial service that was held for Cordero shortly after his passing and also shared a sweet moment in which her son Elvis said his first words.
When he passed away, Nick Cordero was widely mourned, and various tributes poured in from celebrities. Not only that but tributes also came from Amanda Kloots' family. Kloot's sister put together two very sweet videos. The first celebrated the actor's life, while the second highlighted Kloots and Cordero's romance over the years.
Although Amanda Kloots does miss her husband, she's previously stated that she and Elvis will keep moving forward for Cordero, who she says is smiling down on them.
In his short time with us, Nick Cordero managed to affect a number of lives, and seeing so many show him and his family love during his health struggles and after his passing has been beautiful to see. And thanks to the efforts of his loved ones, his legacy will surely not be forgotten.
Keep it here at CinemaBlend for more from the world of TV and film.
Covering superheroes, sci-fi, comedy, and almost anything else in film and TV. I eat more pizza than the Teenage Mutant Ninja Turtles.