The Owl House's Luz Noceda: The Story Behind Disney's First Bisexual Lead Character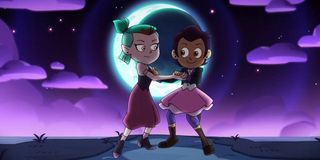 The Owl House only recently completed its first season, but the hit Disney Channel animated series has already made quite a name for itself. Shortly after it premiered, Dana Terrace's horror-comedy about Luz Noceda, a teenage girl who stumbles upon a fantastical world drew the ire of parents and critics for being "evil."
But the buzz surrounding The Owl House only grew with the airing of "Enchanting Grom Fright" and "Wing It Like Witches" in August 2020, when it was revealed that Luz Noceda was bisexual after she and Amity Blight share an intimate dance while casting spells to defeat a demon. Soon after the episode aired, the internet became fascinated with the first bisexual character to lead a Disney title of any kind, and what followed was something so magical and heartwarming it just has to be told. Here's the story behind Luz Noceda's moment on The Owl House.
The Reveal Was First Teased In A July 2020 Twitter Exchange
Shortly before The Owl House returned for the second half of Season 1 in July 2020, Dana Terrace sent out a tweet expressing her pride in the work the crew of writers and animators had accomplished and was excited to show off what they were working on when a fan was quick to respond with this:
Dana Terrace could have played it off, or she could have refrained from responding entirely, but no, she responded with three simple words that, in hindsight, said everything that needed to be said about the moment that would change the show and potentially Disney in just a month's time:
Little did anyone know (well, maybe besides the crew of The Owl House and some executives at Disney) that in a little over a month, that image and what followed would have such an impact on the LBGTQ+ community and its allies.
When Getting This To Happen, Dana Terrace's Stubbornness Paid Off
Shortly after "Enchanting Grom Fright" aired, Dana Terrace took to Twitter to confirm what The Owl House's fans were theorizing after Luz and Amity shared that special moment. In a series of tweets, Terrace explained that she herself was bisexual and had always wanted to write a bi character before explaining how she had to push for it when pressed unnamed Disney leaders:
Shortly after coming out with that bombshell, Terrace went on to stress the importance of representation in media and that people should always take a stand for something they believe in before stating that she was excited for what the show has in store:
And as fans would soon find out, the intimate dance at "Grom" wasn't a one-and-done type situation for the Luz and Amity, as viewers would soon find out in the following week's episode where the relationship was explored once more.
One Of The Show's Stars, Wendie Malick, Called The Moment A 'Big Move'
Shortly after Luz's bisexuality was revealed, Wendie Malick, who voices Edalyn "Ed" Clawthorne on The Owl House, appeared on SiriusXM's "The Michelle Collins Show" (via THR), where she stressed that it was a "big move" for Disney before explaining that the moment was especially meaningful for children who might feel the same way, stating:
Fans and the crew of The Owl House aren't the only ones singing the show's praises for taking such a big step, as organizations like GLAAD have come out in support of the move.
Dana Terrace Will Continue To Explore The Relationship Between Luz And Amity In Season 2
After reading everything that Dana Terrace has said about Luz and Amity's relationship, it should be a given that she and the rest of the crew behind The Owl House will continue to further explore the idea when the show returns for Season 2 at some point in the future. During a September 2020 Reddit Ask Me Anything, Terrace had this to say:
It is extraordinary to see something that was once deemed too taboo for television, let alone a kids show, now become a central plot point in a successful Disney Channel show.
Alex Hirsch, Creator Of Gravity Falls, Commended Dana Terrace For Pulling Off Something He Never Could
Long before Dana Terrace introduced the world to The Owl House, she worked as a storyboard artist on the Disney Channel series Gravity Falls which was created by her partner Alex Hirsch. Shortly after Luz was revealed to be bisexual in August 2020, Hirsch, who also voices the character King, took to Twitter to commend Terrace and show just how far things have come in terms of acceptance at Disney:
The Gravity Falls creator would go on to say that Disney did good this time by allowing something so meaningful to happen on a kids show.
The reveal that The Owl House's Luz Noceda is bisexual is the most recent of its kind after the 2020 Pixar short Out and its portrayal of a man trying to hide his sexuality (and his partner) from his unsuspecting parents, as well as Onward, which featured Lena Waithe's Specter, an LGBT character. Outside of the Disney, the Nickelodeon animated series The Legend of Korra broke new ground in 2014 with the reveal that the titular character was indeed queer, spawning the "Korrasami" moment.
Philip grew up in Louisiana (not New Orleans) before moving to St. Louis after graduating from Louisiana State University-Shreveport. When he's not writing about movies or television, Philip can be found being chased by his three kids, telling his dogs to stop yelling at the mailman, or yelling about professional wrestling to his wife. If the stars properly align, he will talk about For Love Of The Game being the best baseball movie of all time.
Your Daily Blend of Entertainment News
Thank you for signing up to CinemaBlend. You will receive a verification email shortly.
There was a problem. Please refresh the page and try again.