Looney Tunes' Bugs Bunny And Daffy Duck Actor On Whether There's Pressure When Voicing Classic Characters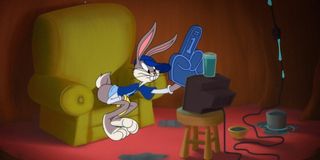 When it comes to the world of animation, the Looney Tunes are among the most beloved characters in the history of the medium. The sight of Bugs Bunny casually chomping on a carrot while pulling one over on Elmer Fudd or Yosemite Sam is iconic at this point. Having been around for over 80 years, the characters have created a legacy that spans TV and film, which can be daunting for those who are currently voicing them. Voice acting legend Jeff Bergman is currently the voice of various Looney Tunes icons and has been for a few decades now. But does he still feel pressure when voicing new iterations of them?
Jeff Bergman originally started voicing Bugs Bunny back in 1989, serving as one of a few successors for the great Mel Blanc, who originated the role. Today, Bergman voices Bugs, Daffy Duck, Foghorn Leghorn, Tweety Bird and a slew of other characters. Anyone who's seen (or heard) his work knows just how good he is but, when I recently spoke with him, he opened up about whether or not he personally feels pressure when performing such iconic roles:
It seems Bergman doesn't feel much pressure when he gets into the recording booth. Still, as a longtime fan of the Looney Tunes, he does still make it his priority to honor what's come before and try to recapture what audiences love about the characters.
Over the years, Warner Bros.' famous toons have gone through more than a few changes, with one of the most recent being The Looney Tunes Show. The underrated Cartoon Network show, which premiered back in 2011, took the characters to suburbia and made Bugs and Daffy roommates in a sitcom-esque setting. Despite his desire to maintain the core essence of the characters, Bergman also understands that he sometimes his performance needs to be adjusted accordingly:
At this point in his career, Jeff Bergman seems to have the Looney Tunes down to a science. It's remarkable just how much he embodies the characters and manages to add new layers to them. His most recent work on HBO Max's Looney Tunes Cartoons is a true testament to that, and this will likely continue with his roles in next year's Space Jam: A New Legacy. I don't know about you, but I'm looking forward to the next time I can hear him say, "Eh, what's up, doc?"
To check out Bergman's work, you can stream Looney Tunes Cartoons on HBO Max (opens in new tab).