The Best Looney Tunes Cartoons You Can Stream On HBO Max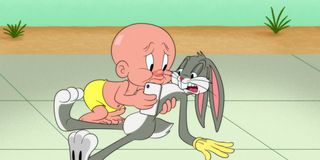 Ever since HBO Max dropped in late May 2020 everyone seems to be talking about being able to watch Friends again or finally being able to stream the delightful Studio Ghibli library. And while both of those are great reasons to get all excited this summer, I was beyond giddy to discover the seemingly endless collection of Looney Tunes shorts (both beloved classics and a new crop of beautifully animated new episodes) that are streaming on HBO Max right now.
For the longest time you either had to spend a ton of money on Looney Tunes boxsets, dig up all your old VHS recordings from your childhood, or settle for sketchy YouTube channels with questionable legality, but not anymore. Now you have hundreds of hours of your favorite cartoons from Warner Bros to enjoy again and again until the end of time. But with so many options, picking an episode or two to watch can become overwhelming to say the least, so I've put together this little list of 20 of the best Looney Tunes episodes you can stream right now on HBO Max. Let's get started, shall we?
Harm Wrestling (Looney Tunes Cartoons)
Featured on the new Looney Tunes Cartoons animated series, the "Harm Wrestling" short features Bugs Bunny squaring off against Yosemite Sam in an arm wrestling contest. Fans of the original cartoons will probably enjoy the antics and tropes from long ago in this new spin on the classic premise. And yes, there's dynamite and an angry Sam before the story wraps up.
Stream it on HBO Max here.
Buzzard School (Looney Tunes Cartoons)
The new Looney Tunes series plays like a compilation of the franchise's best stories with a fresh coat of paint, and that's no different for the "Buzzard School" short which sees Bugs Bunny up to his old tricks with the easily tricked Beaky Buzzard, who's trying to find a rabbit. The animation and voice-acting, along with callbacks to the original cartoons with trains, giant rocks, and mirror gags, make for a great homage to those of the past.
Stream it on HBO Max here.
TNT Trouble (Looney Tunes Cartoons)
You couldn't have a new Looney Tunes series without a little Wile E. Coyote and Road Runner action, so thankfully the "TNT Trouble" short is included in this first batch of new stories. There's nothing quite like watching the constant scheming by the doomed coyote come back to blow up in his face, literally this time. And it doesn't hurt having the desert landscape brought to life in dazzling animation.
Stream it on HBO Max here.
Shower Shuffle (Looney Tunes Cartoons)
Since first appearing alongside one another in "Porky's Duck Hunt" back in 1937, Porky Pig and Daffy Duck have shared the screen a multitude of times. And that partnership/rivalry continues here on the new Looney Tunes Cartoons with the "Shower Shuffle" shot which shows how each character's actions affects the other on the opposite side of the shared waterline. Watching as Porky's fortune is Daffy's misfortune, and vice versa never gets old.
Stream it on HBO Max here.
Pool Bunny (Looney Tunes Cartoons)
The final short from the new batch of Looney Tunes to be featured on this list is the "Pool Bunny" short involving none other than the classic pairing of Bugs Bunny and Elmer Fudd. The cartoon starts with Bugs coming across Elmer's picturesque pool in the middle of a heat wave (with all the visual gas like a sign reading "Hot Isn't It?") before it picks up with a battle the two have been fighting for nearly 80 years now.
Stream it on HBO Max here.
Baseball Bugs (Looney Tunes)
Starting off the classic Looney Tunes shorts is my personal favorite, "Baseball Bugs," sees Bugs Bunny taking on the Gas-House Gorillas baseball team in a packed stadium. The short features some of the most iconic moments from the franchise, including Bugs using his signature reverse psychology to get an umpire to do as he wishes, the Gas-House conga line following a series of hits in the early goings of the game, and Bugs hitting a player so hard his cigar explodes.
Stream it on HBO Max here.
Duck Amuck (Merrie Melodies)
Daffy Duck always seems to get the short end of the stick, and while it's justified more times than not, there are times, like in Duck Amuck, where the oft-injured duck finds himself being tormented by an unseen and aggressive animator. This is one of the shorts that comes up the most in conversation, and for good reason. It doesn't commit to one animation or narrative style and bounces all around, showing the animators' (and storytellers') ingenuity and craftsmanship.
Stream it on HBO Max here.
Now That Summer Is Gone (Merrie Melodies)
Technically a Merrie Melodies animation, the 1938 short Now That Summer is Gone tells the story of a squirrel who loses his family's nut supply in a dice game with a stranger and subsequently makes up a lie to get out of trouble with his father. Released before the Merrie Melodies and Looney Tunes brands essentially became the same brand, this short animated musical features great music, singing, and some of the best animation of its time.
Stream it on HBO Max here.
Rhapsody in Rivets (Merrie Melodies)
Growing up, Rhapsody in Rivets was always one of the most intriguing things I had ever seen. Set at a construction site, the short features a crew of workers putting up a building to the beat of Frank Liszt's "Hungarian Rhapsody No. 2." Hammers, saws, elevators, and other pieces of equipment build an orchestra of sounds as the skyscraper continues to rise over the busy city down below. The animation and the idea to have a construction site become a symphony hall is ingenious to say the least.
Stream it on HBO Max here.
Wackiki Wabbit (Merrie Melodies)
The 1943 short Wackiki Wabbit follows two castaways as they nearly turn to cannibalism before coming across Bugs Bunny on a deserted island. This one comes up again and again for the shots of the two castaways picturing one another as different foods as well as the image of Bugs Bunny taking a bath in a pot of water as they try to cook him for dinner.
Stream it on HBO Max here.
Hollywood Daffy (Merry Melodies)
Set in the streets and backlots of Warner Bros. the Hollywood Daffy short follows the famous duck as he tries to meet the biggest names of 1946. Famous for featuring animated versions of the likes of Lauren Bacall, Bette Davis, and Jack Benny, the short also features a series of gags where Daffy dresses up like everyone from Charlie Chaplin to Bing Cosby.
Stream it on HBO Max here.
Crowing Pains (Looney Tunes)
You couldn't have a list of classic Looney Tunes cartoons with featuring at least one with Longhorn Foghorn, and you couldn't feature the overweight rooster with his signature Southern accent without mentioning the Crowing Pains animated short. Watching Foghorn as he convinces Henery Hawk that Sylvester is a chicken never gets old, especially when you add Barnyard Dog to the mix. This also marks the first time Robert McKimson directed a short involving Sylvester, so there's that as well.
Stream it on HBO Max here.
Fast and Furry-ous (Looney Tunes)
Wile E. Coyote and Road Runner have been going at it for more than a half a century at this point, but their cat-and-mouse games first started way back in 1949 with the Fast and Furry-ous animated short. This seven-minute short is much like the countless animations that followed in the years and decades to come, but it's great to see where it all started.
Stream it on HBO Max here.
Rabbit of Seville (Looney Tunes)
Another great pairing of Bugs Bunny and Elmer Fudd is the 1950 animated short Rabbit of Seville. Set during a performance of "The Barber of Seville," the cartoon features some of the most iconic images in all of Looney Tunes with the famous haircut sequence in front of a large audience, with several of the actions set to the tempo of the famous opera.
Stream it on HBO Max here.
Rabbit Fire (Looney Tunes)
The opening chapter of the famed "Hunting Trilogy," the 1951 short Rabbit Fire sees the first pairing of Bugs Bunny, Daffy Duck, and Elmer Fudd, as the two animals thwart the hunter's gunfire while also attempting to trick one another at the same time. Big things would follow for the three characters in the years to come, but nothing quite compares to the "Rabbit Hunting Season/Duck Hunting Season" signs and other gags featured in this groundbreaking short.
Stream it on HBO Max here.
Hoppy-Go-Lucky (Looney Tunes)
Pretty much the Looney Tunes version of Of Mice and Men, the 1952 animated short Hoppy Go Lucky follows a simple cat by the name of Benny who enlists the help of Sylvester (who he calls George) to find a mouse so he can have a pet. What they find ends up being a kangaroo. Shockingly violent, even for Looney Tunes standards, the short was heavily edited for television airings after its initial release.
Stream it on HBO Max here.
What's Opera Doc? (Merrie Melodies)
The What's Opera Doc? short from Merry Melodies is probably one of the most well-known Warner Bros cartoons, and for good reason. Parodying classic operas, this 1957 animation is combines the traditional elements of the Bugs Bunny/Elmer Fudd relationship and adds a touch of drama to the affair for one of the most well-known and highly-regarded releases from the studio. And if the United States Library of Congress says it's significant then you know you have to watch it.
Stream it on HBO Max here.
Duck Dodgers in the 24 1/2th Century (Merrie Melodies)
When Daffy Duck wasn't getting tricked by Bugs Bunny he often found himself in outer space as the "Duck Dodgers" character. This all started with the Duck Dodgers in the 24 1/2th Century animated short which shows the titular character discovering the mysterious "Planet X" at the same time as Marvin the Martian.
Stream it on HBO Max here.
Devil May Hare (Looney Tunes)
Tasmanian Devil is one of the most iconic characters to come from Looney Tunes (especially in the 1990's "attitude" clothing and pop culture), but the character goes back as far as the 1954 animated short Devil May Hare. In the character's debut, he is seen chasing multiple animals around before meeting Bugs Bunny who does what Bugs Bunny always does — has fun at the behest of Taz.
Stream it on HBO Max here.
One Froggy Evening (Merrie Melodies)
The 1955 animated short film One Froggy Evening is worth including solely for being the introduction of one of Warner Bros. most notable mascots and characters, Michigan J. Frog. Centered around a down-on-his-luck man who tries to find fame and fortune with the help of a singing and dancing frog, the short features a wide range of musical numbers and some pretty amusing situations.
Stream it on HBO Max here.
Well, those are just 20 of the great Looney Tunes shorts you can watch right now on HBO Max. Like I said in the beginning, there are hundreds of episodes to choose from, so let me know if I missed your favorite. And for all things HBO Max, check out all of the great content on the latest streaming service here on CinemaBlend.
Philip grew up in Louisiana (not New Orleans) before moving to St. Louis after graduating from Louisiana State University-Shreveport. When he's not writing about movies or television, Philip can be found being chased by his three kids, telling his dogs to stop yelling at the mailman, or yelling about professional wrestling to his wife. If the stars properly align, he will talk about For Love Of The Game being the best baseball movie of all time.
Your Daily Blend of Entertainment News
Thank you for signing up to CinemaBlend. You will receive a verification email shortly.
There was a problem. Please refresh the page and try again.