The Blacklist's Megan Boone Has Gotten In On The Bernie Sanders Memes, And Red Is Involved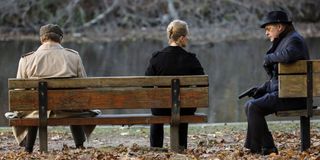 It's been several days since the Bernie Sanders Inauguration memes permeated pop culture in its entirety. We've seen the likes of Ryan Reynolds and Mark Hamill go all out, but there was fortuitous timing for one show as well. In fact, The Blacklist just so happened to return to the schedule during the same week that Joe Biden was sworn into office as the President of the United States. So, Blacklist stars Amir Arison and Megan Boone got into the fun and shared what it would be like if Bernie Sanders and Red Reddington got together for one chilly park bench meeting.
OK, the Bernie Sanders animated into Studio Ghibli films might get the gold star for most creative, but I'm still pretty pumped The Blacklist brought Red and Bernie together to spread the word the NBC series was returning to the schedule. But don't take it from me. Take it from the Elizabeth Keen actress herself.
To give credit where credit is due, Instagram's "CooldudeSpader" account seemingly was the source of the meme--or at least where Amir Arison found it. He and Megan Boone then decided it was the perfect meme to use to get fans excited about the return of the long-running show this weekend.
Speaking of longevity, other Blacklist actor Harry Lennix also recently said the NBC drama is simply just one of those series that keeps going and going and going. Now in it's eighth season, Lennix has a logical way of looking at longevity and a hope the show will continue for time to come. He noted:
Meanwhile, the show did get a very nice, lengthy break in 2020 when New York City shut down in March. James Spader recently said during a late night appearance that he spent the time in Massachusetts, where he accidentally was when quarantine started. Though, these days he's happy to be back and out promoting the show. Unfortunately on his end that does not include creating memes. (Dude can't even figure out the whole Zoom thing though, so what do we expect?)
The point is, while the Bernie Sanders meme will come and go and will likely will run its course soon, The Blacklist could theoretically live for quite a bit longer. Catch new episodes on Friday nights at 8 p.m. ET and see when the rest of your favorite shows will be returning with CinemaBlend's winter TV schedule.
Amazing Race & Top Chef superfan with a pinch of Disney fairy dust thrown in. If you've created a rom-com I've probably watched it.